Join us for an Arts & Crafts Benefit for Live Water Foundation
Hosted by Cynthia Palmer and Jim Brooks
Featuring original framed watercolors and wood-turned creations
Saturday April 22, 2023 | 1 – 4 PM
at the Severn House Condominium Association pool deck
790 Fairview Ave, Annapolis, MD 21403
Rain date – Sunday April 23
Annapolis couple Cynthia Palmer and Jim Brooks have partnered with Live Water Foundation for an Earth Day celebration of art and the Chesapeake Bay. On Saturday, April 22 from 1-4 pm, the paintings and wood-turned creations of these artisans and avid sailors will be on display and for sale at the pool deck of Severn House Condominiums on Back Creek in Annapolis as a fundraiser. This event includes 50 original framed watercolors and pastels by Palmer and a broad selection of wood-turned bowls, platters, boxes and vases by Brooks. 100% OF PROCEEDS specified by check or cash to Live Water Foundation will support efforts to improve Chesapeake Bay water quality.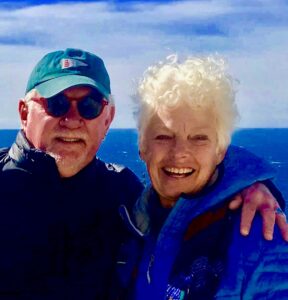 Palmer and Brooks have spent much of their retirement sailing and focusing on the creative arts. As Palmer explains on her website (palmerwatercolors.com), "After retirement in 2011, I began to paint and found that for me, watercolor and pastel are the best media to use, especially while traveling. Travels have included tent camping in the magnificent parks of North America, international home exchanges, and extensive cruising with my husband aboard our sailboat. We have lived aboard for months at a time, sailing from Maine to Florida and through the many islands of the Bahamas on Neverland…Painting never fails to make me more keenly aware and appreciative of both new and well-known surroundings."
Beyond enjoying and celebrating life on the water for themselves, Palmer and Brooks tie their passions for the water and creativity with making a positive impact by giving back to their community. Palmer explains, "we are most interested in using painting and wood turning to give back to Annapolis and other communities by donating our work to nonprofit organizations for fundraising events. Proceeds are used to support those in need, protect the environment, promote safe sailing and boating, promote use of public libraries, and other causes. In the last 5 years we have donated dozens of our works to support various causes."
In addition to the items displayed for sale, one painting and one wood-turned item will be raffled off at 4 pm. Raffle tickets are $5 each; you do not have to be present to win! Checks and cash will be accepted – sorry, no credit cards.
Fun Earth Day Fact:
Did you know that 1 mature oyster can filter 50 gallons of water per day?
Here's your chance to help improve Chesapeake water quality through
installation of oyster spat cages on Back Creek
by Live Water Foundation. 100% of proceeds dedicated to Live Water Foundation will support this effort.
Spend Earth Day with Live Water Foundation! Join us at Quiet Waters Park on Saturday, April 22 at noon for a
shoreline clean-up
, then head over to Severn House for the
arts and crafts sale
with Cynthia Palmer and Jim Brooks.