Reliving the 2023 Live Water Luau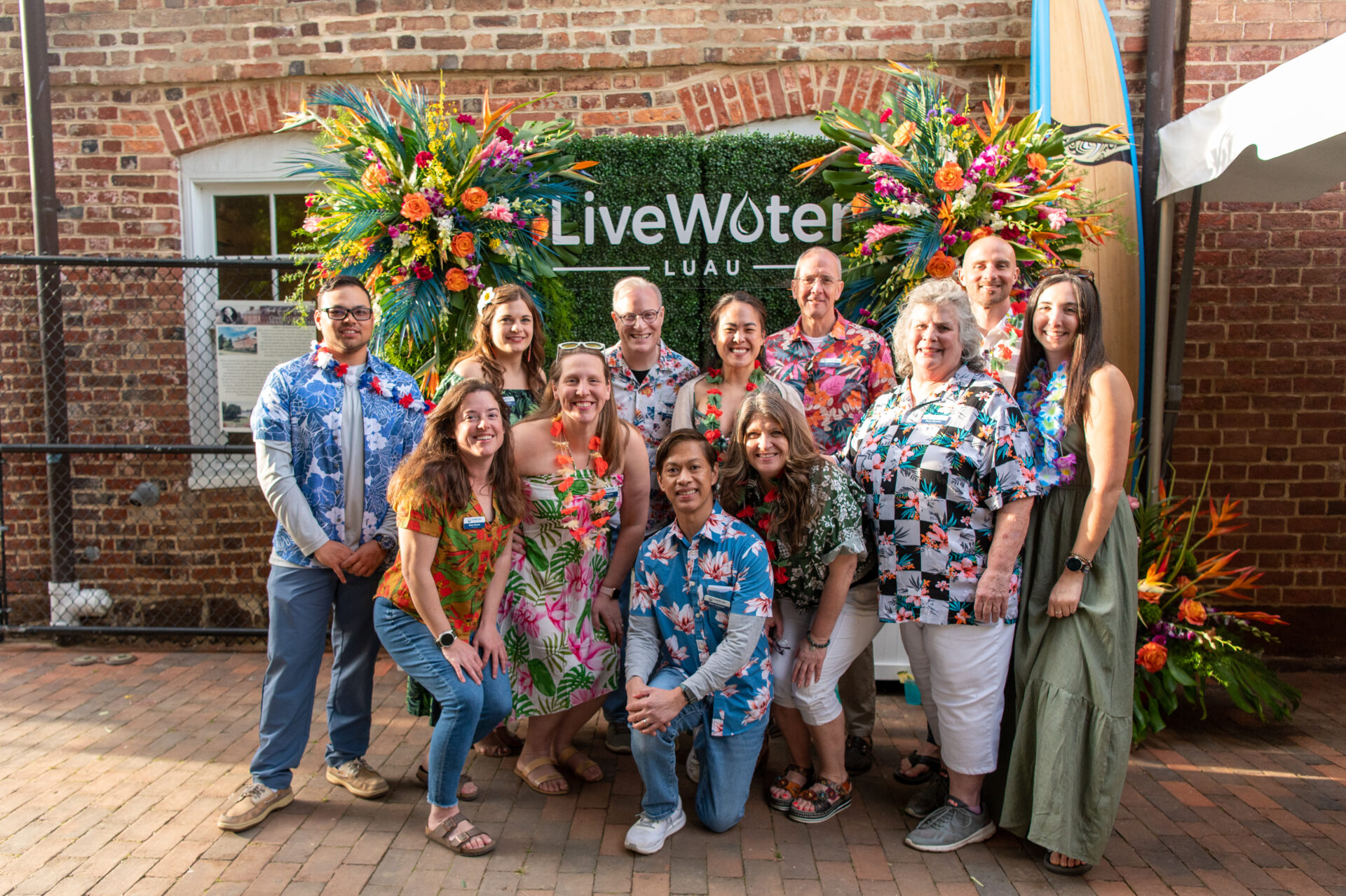 We can't believe it's already been over a month since we were celebrating together at the Live Water Luau! As we find ourselves swept up in our summer programmatic season, we thought we'd take a moment to look back on the wonderful evening that made it all possible. 
The second annual Live Water Luau took place at the historic Charles Carroll House and Gardens in downtown Annapolis on May 6th. We admittedly were nervous about being able to recreate the magic of our first year, but based on the fun we had and the feedback we received, it's safe to say expectations were exceeded. 
Unlike last year, which saw lots of rain, the weather could not have been more agreeable. It was perfect for taking in the sprawling grounds of the Charles Carroll House overlooking glistening Spa Creek.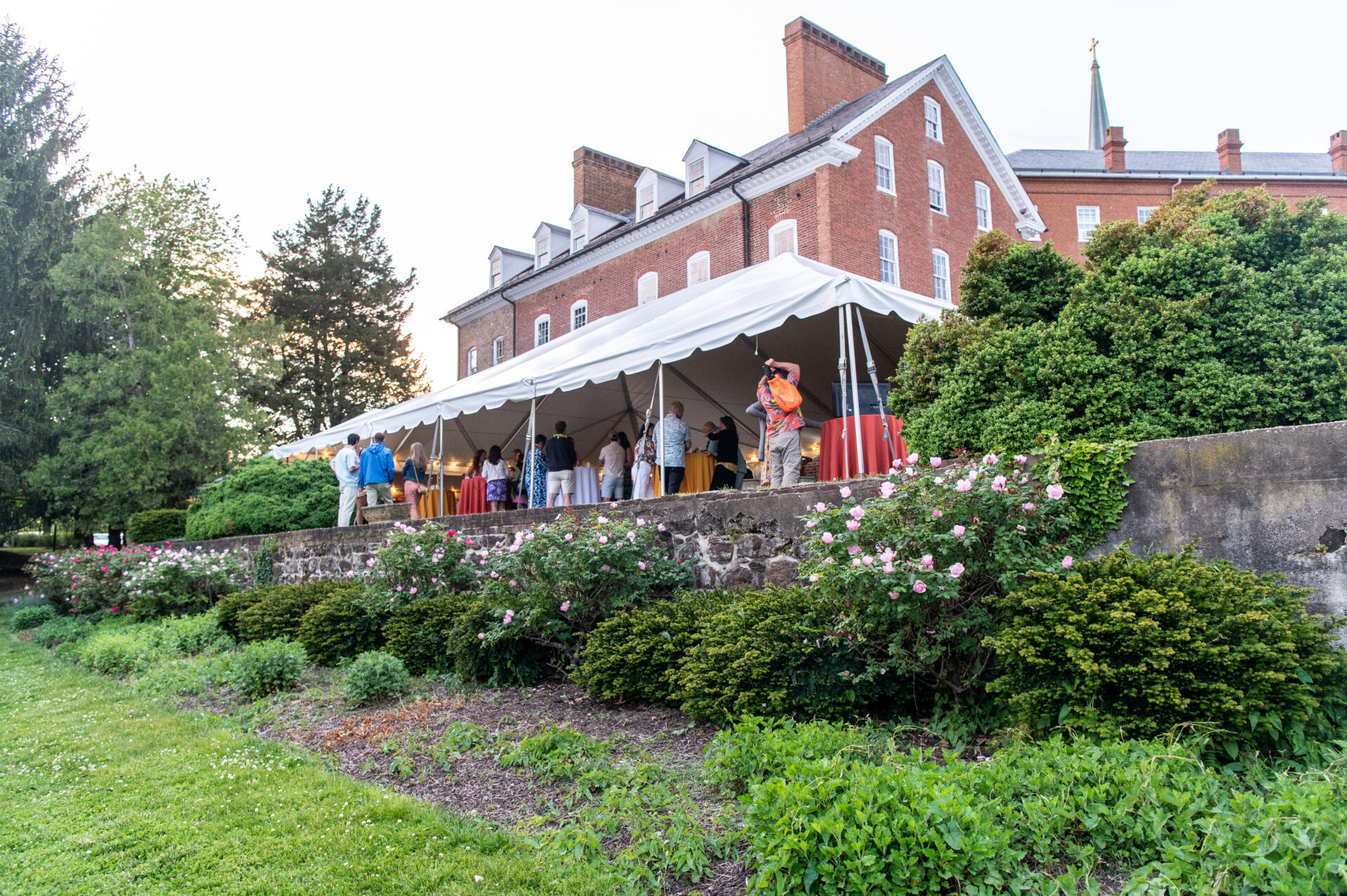 Guests walked the tiki-torch-lit path up to the entryway that was adorned with monstera leaves and tropical flowers, including dendrobium orchids, free spirit roses, and birds of paradise. After being greeted with a traditional Hawaiian lei, attendees were led into the main parlor that held our live auction and raffle.
Thanks to the wonderful generosity of our community members, guests had the option to bid on or enter a raffle to win some seriously awesome items, including (but certainly not limited to) concert tickets, private stand-up paddleboard lessons, restaurant gift cards, a spa package, a sailing trip, and so much more. Many thanks again to everyone who contributed items!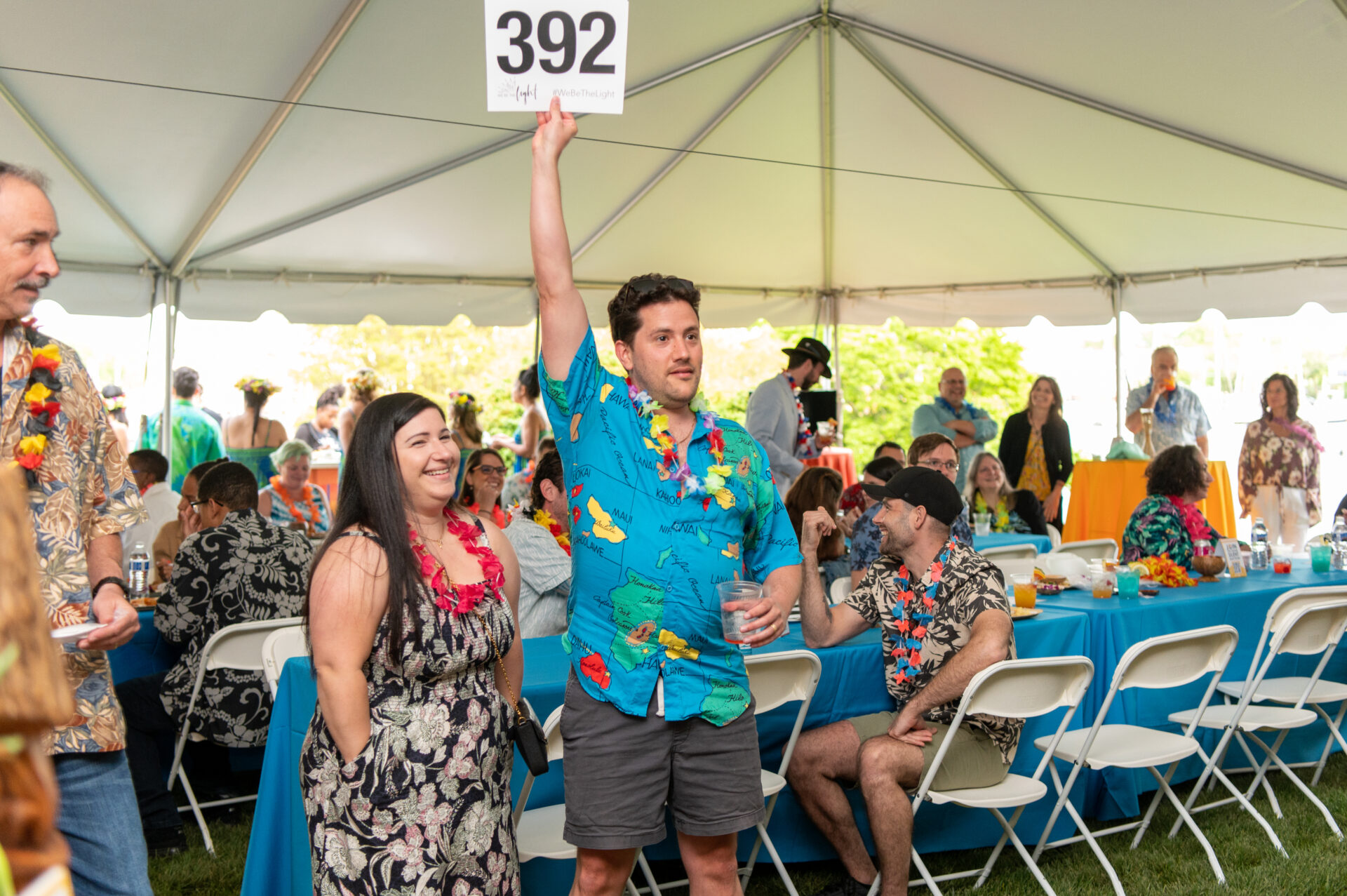 We got started on the food right away, with guests eagerly anticipating the delectable spread of authentic Hawaiian and Polynesian cuisine that quickly satisfied the crowd. Drinks were flowing as well, and our signature Blue Hawaiian and Passionfruit Mai Tai cocktails were a huge hit.
Once everyone was fed, comfortable, and had a chance to bid, Live Water Foundation President Mary Howser took to the stage to make some acknowledgements and thank everyone who made the event and our programs possible. She also paused to highlight the numerous businesses and individuals whose sponsorships fueled the evening—read more about them here. It was Mary's first time addressing an event audience since being elected president earlier this year, and we're so proud of her.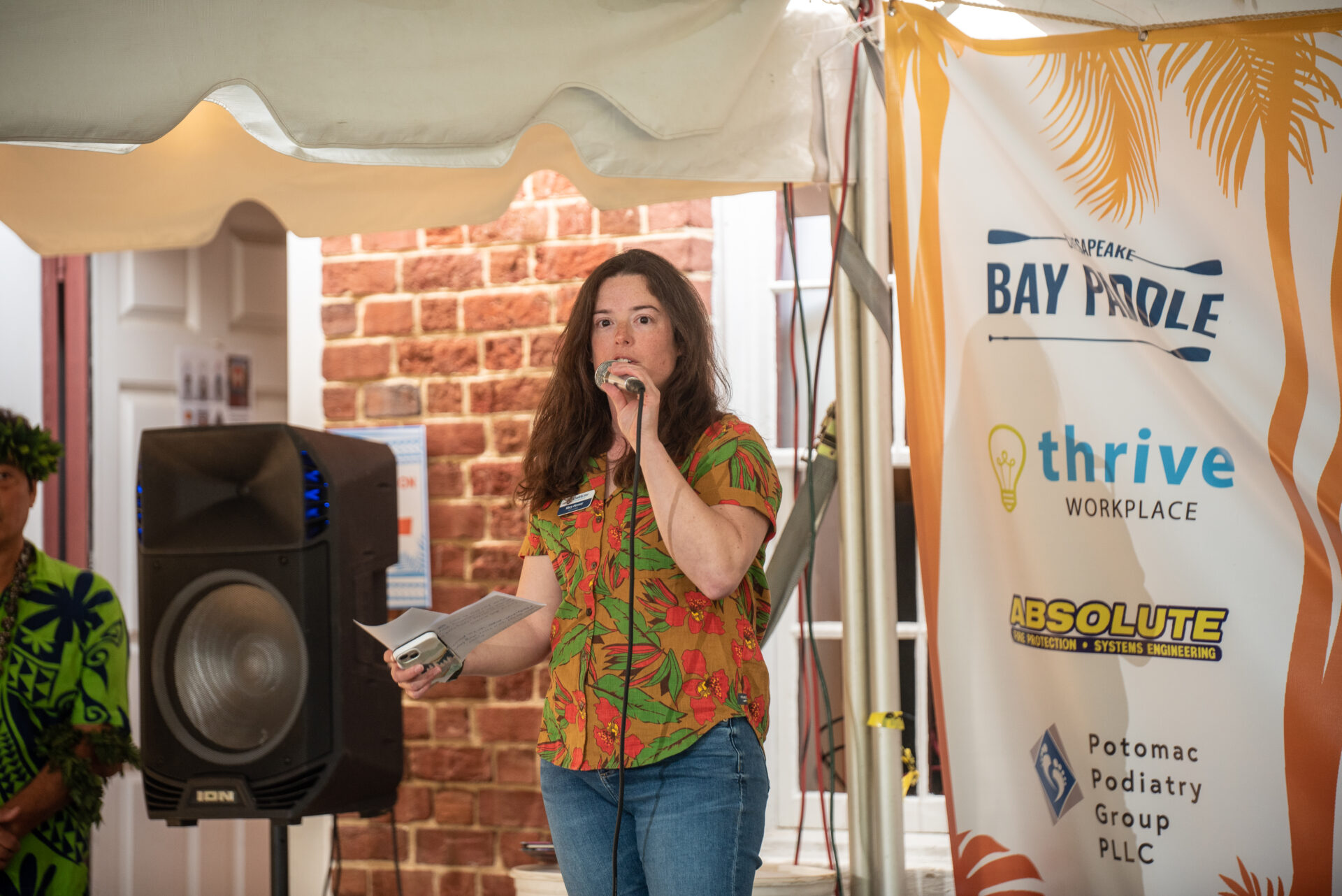 After Mary spoke, it was time to bring a very special guest to the stage to share her personal experience as a participant of our signature Wai Koa program. Wai Koa [pronounced why-co-uh and Hawaiian for "water warrior"] is our supplemental adaptive sports program that seeks to enhance the quality of life for physically and mentally disabled veterans, active military, and first responders through stand-up paddleboarding. (Click here for more information on all our programs.) 
Gaby, a 28 year-old military veteran, talked about the way her life changed after being diagnosed with compartment syndrome during her deployment. She bravely shared how the condition made her feel and impacted her life, and the progress she made after coming under our wing and trying paddleboarding. "Being out on the water surrounded by nature, being away from the hospital and stresses of everyday life, it has helped me find peace and tranquility in this weird time of my life," Gaby said. "It gives me the opportunity to clear my mind, reflect on my thoughts and feelings, while still focusing on the present moment. It has become my therapy, my sanctuary, and my escape."
To say it was an honor to hear Gaby's story and to know she was positively impacted by our foundation is an understatement—we're immeasurably grateful to have the opportunity to make a difference in the lives of those who serve us. We encourage you to read Gaby's speech here.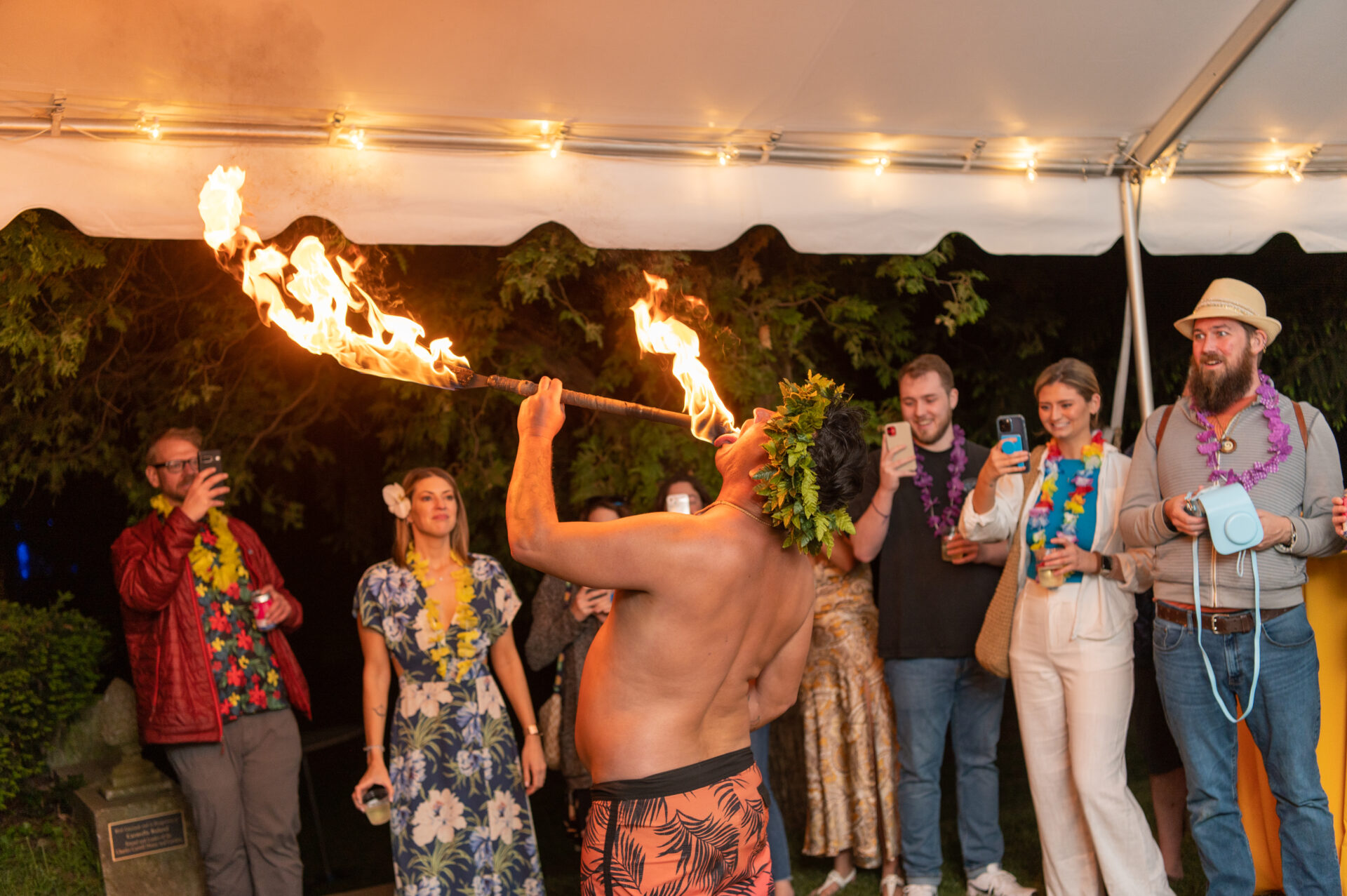 After the speeches, expertly trained performers put on a fantastic hula show complete with fire breathing for our guests to enjoy.
With the show wrapped up, raffle winners chosen, and bids on auction items closed, it was time to say goodnight. While we did put a tremendous amount of work into planning and preparations, the greatest praise is reserved for the volunteers, sponsors, and donors who contributed to making our event such a success. We really couldn't have done this without you and continue to be amazed by the support we receive from our community. Thank you for your help!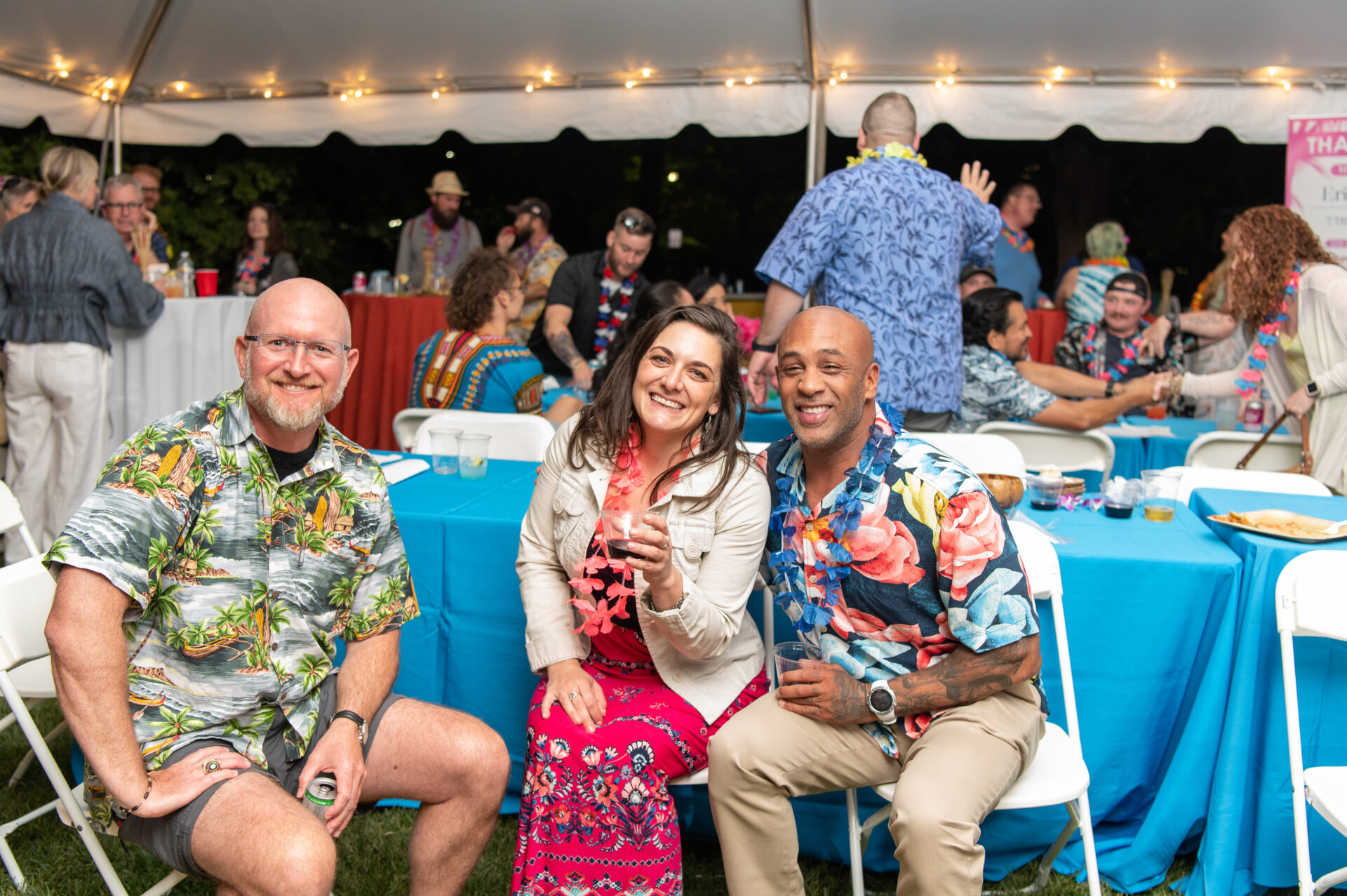 As we focus on concluding our programmatic season, we'll be looking forward to hanging out with you again at next year's fundraising gala.
THANK YOU AGAIN TO OUR SPONSORS:
Absolute Fire Protection
Annapolis Foot & Ankle
Annapolis Moms
Annapolis Moms Media
Bay Paddle
Chill Ghost
Coldwell Banker Realty (Brian Jacobs)
Crest Wealth Advisors
Erica Baker Realtor
FLOHOM
Forward Brewing
JSRINS,INC
Leader Inspired
Liquified Creative
Living Life Everyday
Mana Supply Company
Rehab 2 Perform
Spartan Medical
Syndicate Screenprint Co.
Thrive Workplace
Throwing Star Collective
Wild Bay Kombucha
RNDC
THANK YOU AGAIN TO OUR DONORS:
727 Sailbags
ALN Images
Amanda C. Bee
Annapolis Compost
Annapolis Marine Art Gallery
Annapolis Moms Network
Basil, Garlic, and Rosemary
Beacon Waterfront Galley and Bar
Bread and Butter Kitchen
Breakwater Adventures
Brendan Felch Photography
Capital SUP
Charcurry Boards
CovingtonAlsina
DICK'S Sporting Goods
Diehls Produce
Dream School College Counseling
Eastport Kitchen
FLOHOM
Florida Girl
Fox's Den
Heavy Seas
Hook 360
Hudson & Fouquet
IceIceBabyCo
Jack Wildlife Photography
Jay Fleming Photography
Jess Holland, Licensed Massage Therapist
Kim Hovell Art
Let's Go Music Festival
Livli Productions
Luna Blu
Mary Howser
Maryland Renaissance Festival
Merriweather Post Pavillion
Nauti Spirts
Odezzi
Parley Room
Rams Head On Stage
Refill Goodness (Kent Island)
Sagamore Spirit
Schooner Woodwind
SeaBags Maine
Seas the Bay
The Annapolis Collection Gallery
The Capital Hotel
The Rock Shoppe
Total Wine
Vida Taco Bar
Wegmans
Wild Bay Kombucha