Gaby is a participant of our Wai Koa program who graciously shared this testimony with us as a speech during our second annual Live Water Luau this past May. We were so moved by Gabby's experience, and wanted to share it with you all! Thank you for reading.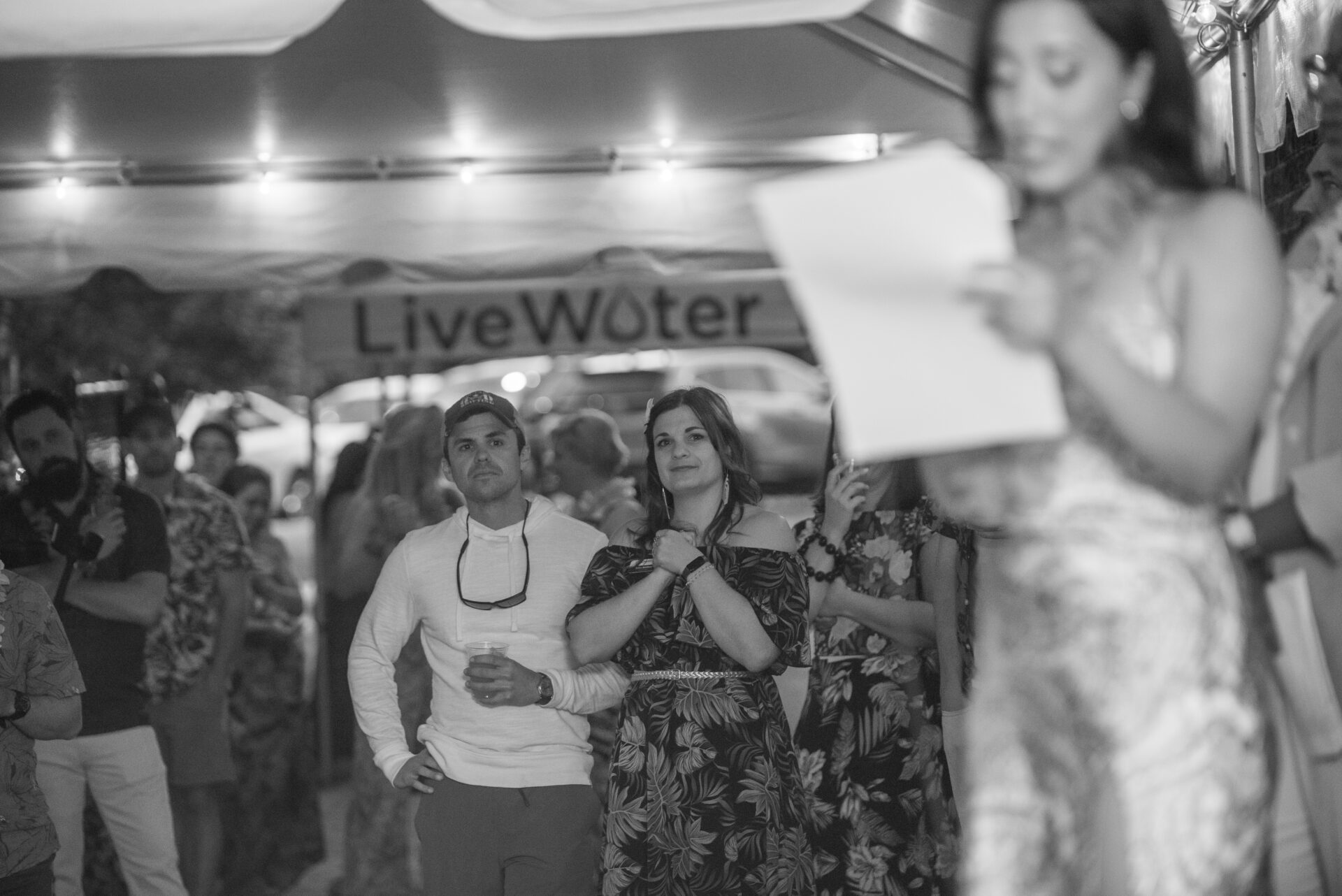 I'm so grateful to have the opportunity of sharing my personal experience with paddle boarding with this foundation and how it has helped me mentally, physically, and emotionally after I suffered from a sudden case of compartment syndrome.
Compartment syndrome is a condition where pressure builds up causing extreme pain and swelling. For more serious cases permanent nerve damage the deterioration of muscle tissue and limb amputation can occur. I'm usually a very lucky person but unfortunately, I had the more serious complications. By the grace of God, doctors at Walter Reed and my dad's persuasive words I got to keep my arm, but for a price.
I had to leave the life I had behind and begin the hardest journey of my life.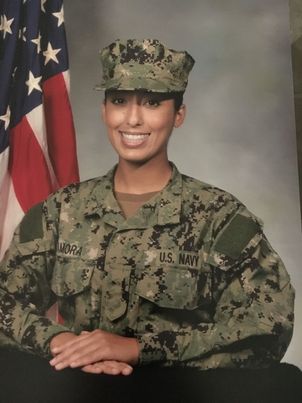 I thought being able to keep my arm would keep me happy, but the injury left me devastated. My command had to drop me and replace me for the sake of the mission. People who were my best friends for the last decade stopped reaching out and to top it off my entire body seemed to be falling apart. My dominant hand was out of the picture, I lost the ability to walk on my own from being bed ridden for over a month. My vocal cords were damaged for a time from numerous nerve blocks, and my hair was falling out from all the stress. I remember the gut-wrenching feeling that I wasn't going to make it and wouldn't be able to fulfill my military duties. I joined the military at 27 because I wanted to be a part of something that mattered only to feel I was being left behind in my darkest hour.
I had been active my whole life and suddenly found myself unable to perform the simplest tasks without experiencing excruciating pain. The pain was so severe it affected my way of thinking leaving me helpless and hopeless every day. But PT and OT everyday twice a day started to make my body stronger without me even realizing it. First, my legs slowly started to work, and I was able to walk again. After a couple months my wrist made the slightest movement. I didn't expect it and it honestly scared me. I tried again to make sure I wasn't just seeing things (because the meds were definitely top tier) and my little wrist made a little twitch as I tried to move it. That was the moment I knew I was back in business! I started trying harder in therapy thinking if I got back to normal it would be like it had never happened, all just a bad dream. That I could go back with my shipmates and do everything I used to do. Well, there's this saying "if you want to make God laugh tell him yours plans." And thinking back now, I realize how funny it was that I was so sure that was the path I needed to be on instead of the one I'm on now.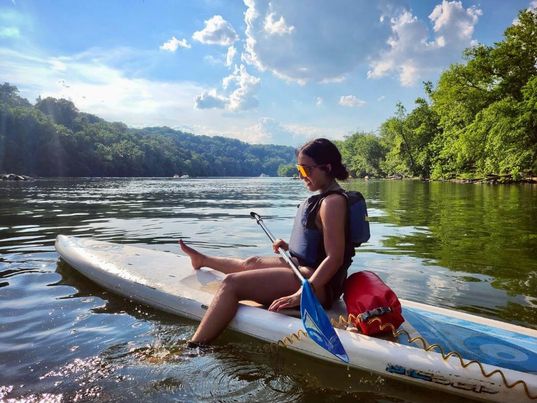 So here I am, thinking I have a plan and it's all gonna happen accordingly. The universe decided it wasn't done testing me because that's when I met a particular adaptive recreational therapist named Harvey Naranjo. He was the only person I was scared of because I thought he trained way too hard. He never smiled while power walking through the hospital. I successfully avoided him and what seemed to be the hardest eval/training ever for a while. It was mostly me putting it off saying I wasn't strong enough but in reality, I was scared of trying and letting myself down. But the day came almost 6 months post injury where I was told just to try and see what happened and I passed. It was the beginning of my adaptive sports journey.
Most of the activities were new to me. I would start as a beginner with every activity, and I was fine with that. There was a poster on the lockers in the MATC where I had therapy of a man who was an amputee on a paddle board. He had the biggest smile and seemed so happy. I'm from South TX (the best part of Texas) by South Padre Island. I've been on a paddle board before as I was a beach girl before my military career. I was even paddling two days before my accident. But I never thought I'd have the strength nor the courage to try again since I couldn't swim. But I never stopped staring at the little poster. I don't even remember what it said but just the possibility stayed in my head. The days got hotter, and I got more curious. The opportunity came up to paddle and without any hesitation, I said yes. I hadn't been near a body of water since my accident, and I was really nervous. The waves were calling and worst-case scenario I could just sit on a board and work on balance.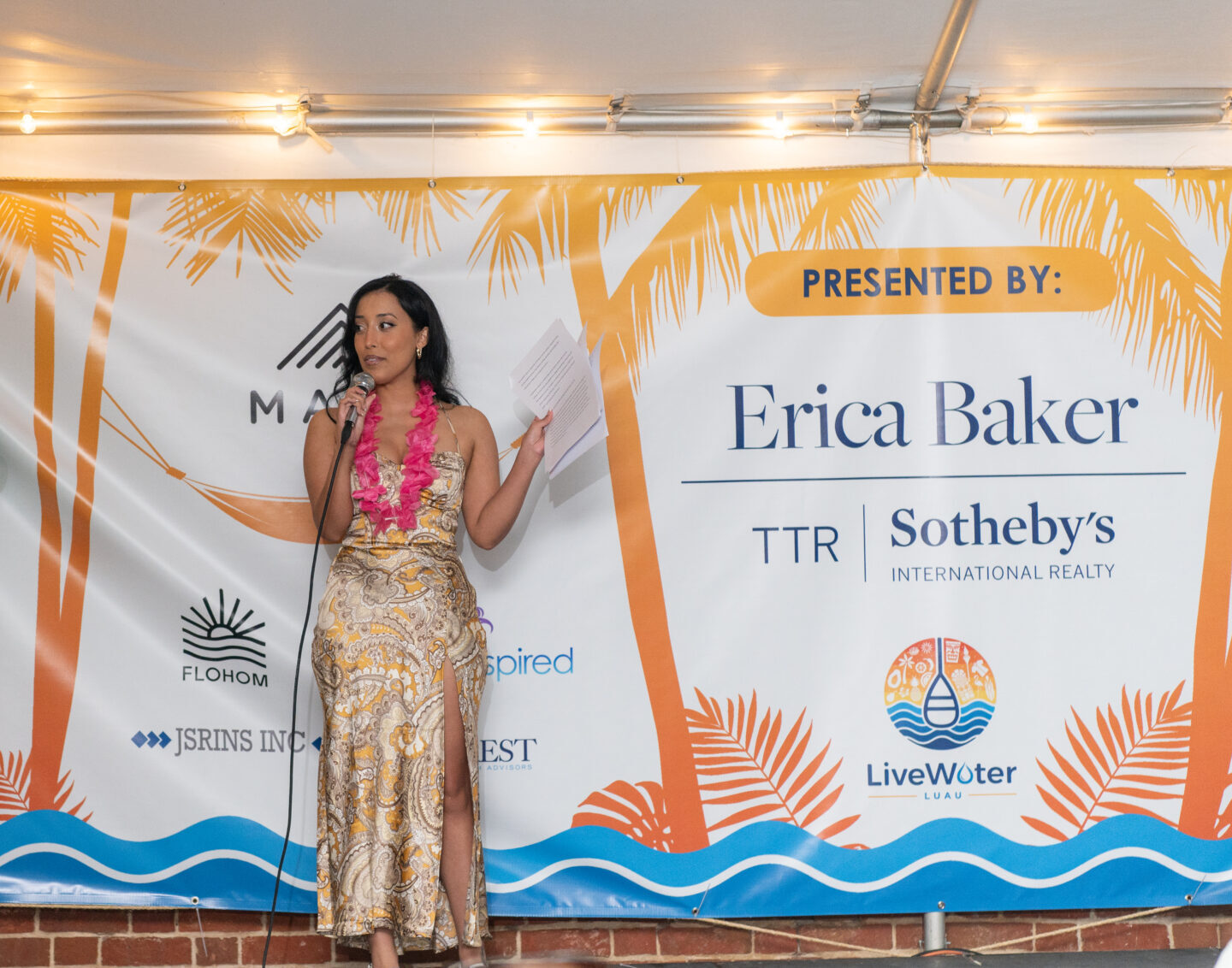 So, I showed up to the Capital SUP dock in Annapolis and it was such beautiful weather. The sound of the water just from the parking lot almost made me cry. I walked up and I'm taking it all in feeling a calmness, yet also excitement. I'm having a real moment, when here comes Harvey, with his swim test nonsense. I was instantly nervous and had regretted coming. Yes, it was probably only 4-5ft in water but I hadn't even tried swimming at this point. So, I slowly walk down the dock and almost slip because I'm thinking of everything except where my feet are going. I turned right around because I thought it was a sign it wasn't my day. Harvey was pretty persuasive, and I wanted lunch so, I figured I had to try.
I got in the water slowly. At this point in life, I never thought I'd be doggy paddling in about 5 ft of water thinking I was gonna die at 28 years old. It felt ridiculous, but through the anxiety, underlying pain, and bruised ego we started laughing because I in fact wasn't dying but I was staying above water. It was the first time I had felt proud of myself in a really long time. I got out thinking I'm Michael Phelps and was invincible. I needed to be on a paddle board pronto. I was still nervous about the weight of the paddle, but here came mind-reading Mary with a shorter, lighter race paddle which was perfect. I got on the board with almost no trouble at all, and everyone disappeared. I felt on top of the world and I couldn't stop smiling. Before that moment I thought the old Gaby had died, and in many ways she did but at least I could bring one activity that always had my heart with me in this new journey.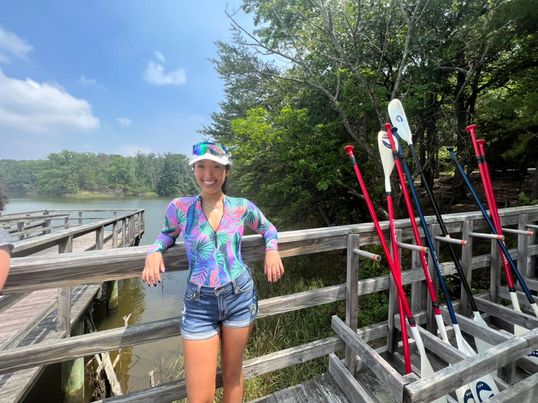 Paddle boarding is my home away from home and to feel the familiarity again was a miracle. I was probably the slowest person on theboard, but I didn't care. Out of all the surgeons, doctors, therapists, they could fix my body but the water had a way of healing my spirit. I always knew it was a passion, but I never knew it would be my lifeline. Paddle boarding was one thing to reconnect me with my soul after I thought I had lost myself. The small waves wash away the anger of being stuck in life even if for only a little while and replace it with a sense of freedom. 
Paddle boarding is a low impact exercise that allows me to work on my endurance, balance, and core strength without putting too much pressure on my muscles. Compared to other high impact sports it is a gentle and soothing way to exercise. This makes it a perfect for someone like me or others who may be in recovery. Mentally, paddle boarding has been a game changer for me. Being out on the water surrounded by nature, being away from the hospital and stresses of everyday life, it has helped me find peace and tranquility in this weird time of my life. It gives me the opportunity to clear my mind, reflect on my thoughts and feelings, while still focusing on the present moment. It has become my therapy, my sanctuary, and my escape.
This sport has re-taught me to be patient, persistent, and resilient. If there is a will there is always a way. Especially with foundations like LiveWater who care about wounded warriors well-being and community. When they feel they have lost everything and when they feel they have been left behind you can count on LiveWater to hand you a board and a paddle to catch back up.
So, thank you for helping me find the beauty in life again and being the example to other organizations supporting wounded warriors like me. Sometimes the simplest things can make the biggest difference.
—
Thank you again to Gaby for sharing her experience with everyone. We're honored to have made a positive impact in her life. View our home page to sign up for volunteer opportunities and to learn more about our programs.