The Live Water Foundation is an organization that is working towards making a positive impact in their community. I have witnessed Live Water Foundation's efforts in educating their community in water conservation and their work teaching inner city kids and military service members to stand up paddleboard. I found it extremely admirable that young SUP athletes would organize their local water sports community to support their mission.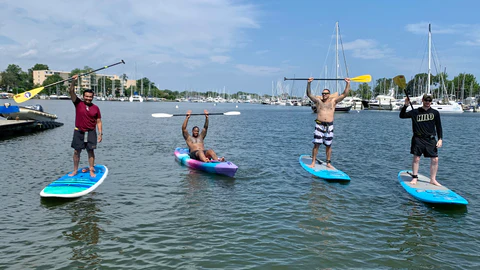 Currently the Live Water Foundation provides free stand up paddleboard lessons and equipment for wounded, ill or injured veterans. This program provides our veterans with the opportunity to learn a sport that will get them out in the community and assist them in regaining and maintaining their physical and mental health, contributing to a decrease in depression, obesity and isolation.
Thank you Live Water for welcoming our veteran community and for providing the motivation for continued enjoyment of our water resources and a supported community reintegration.
Very Respectfully,
Harvey Naranjo
Veteran & Military Healthcare Professional
Disclaimer: The views and opinions expressed for this letter or recommendation are those of the author and do not reflect the official policy or position of any agency of the U.S. government. They should not be used for any other endorsements other than intent of this letter. Assumptions made within the analysis of this document are not reflective of the position of any U.S. government entity.