It's been just over a week since we hosted our first ever Live Water Luau, and we're still glowing from the experience. Though the weather wasn't quite in our favor, we were able to keep everyone dry under a large tent outside the grounds of the Historic Charles Carroll House in downtown Annapolis. We're grateful to our wonderful sponsors, our hardworking volunteers and our gracious community. With your helpful feedback, we're already planning how to make next year's luau even better!
A Walkthrough of the Day…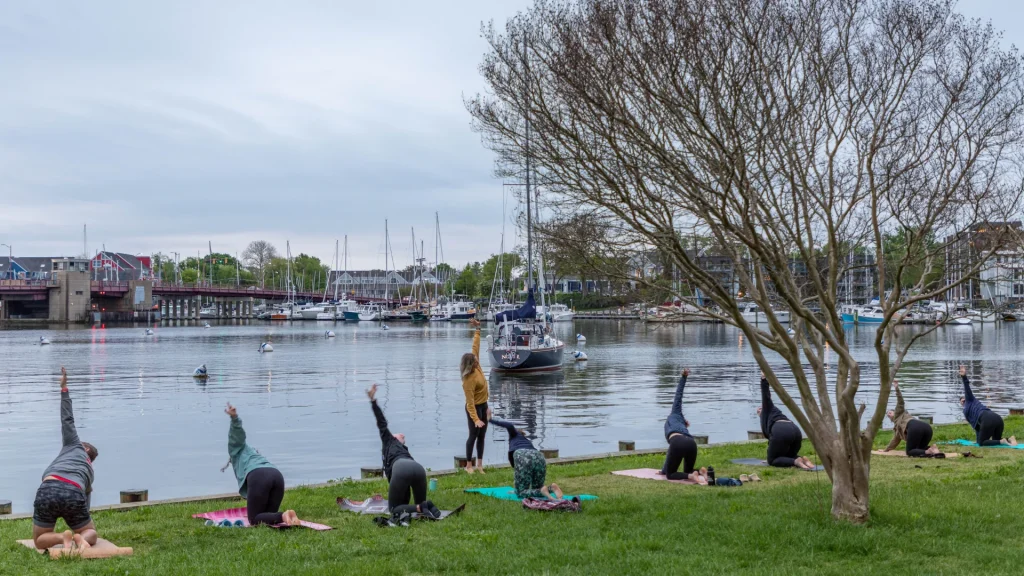 The day started with a complimentary sunrise yoga session with instructor Lindsay Cook of luau sponsor Living Life Everyday. Though it was a bit overcast, the clouds created beautiful colors of their own with the light bouncing off and filtering through them. The reflections on the sparkling waters of Spa Creek warmed us as we let our intentions for the day flow through us with our practice.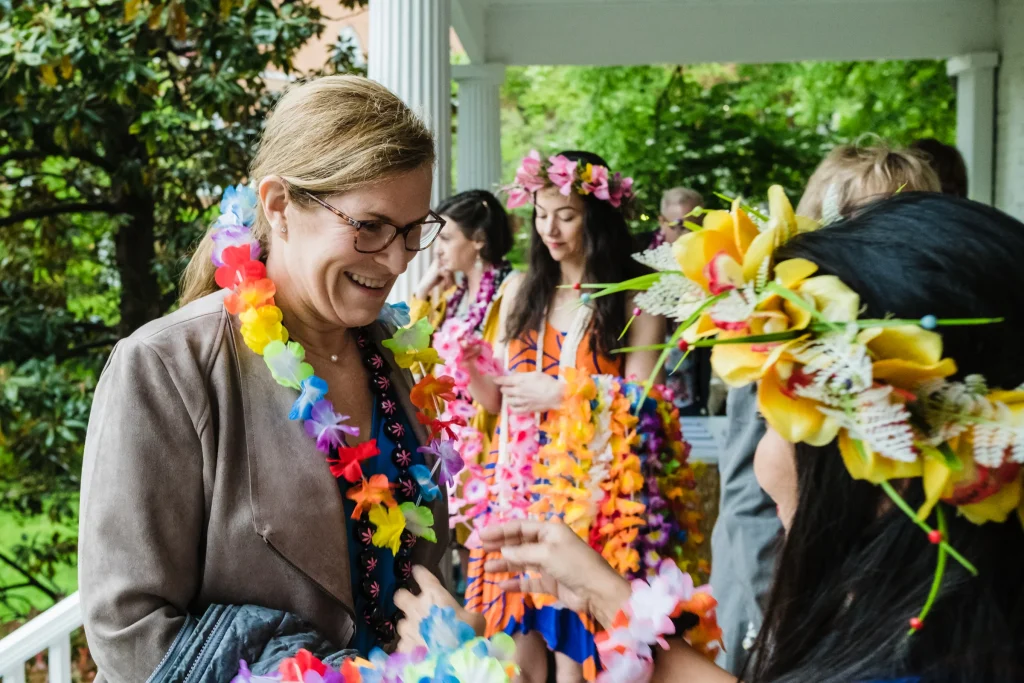 Later that evening, guests were greeted upon arrival with a silk lei and led through the 18th century home. The main parlor was set up with poker, craps, and blackjack tables as well as an auxiliary bar, giving guests the opportunity to wander through and admire the adjoining foyer and porch, which remained untouched. Downstairs, the cellar was transformed into an ad hoc auction house with art to be bid on and raffle baskets for winning. The cellar opens up to the expansive garden and its unparalleled view of Spa Creek, (which we were lucky enough to observe from our tent.)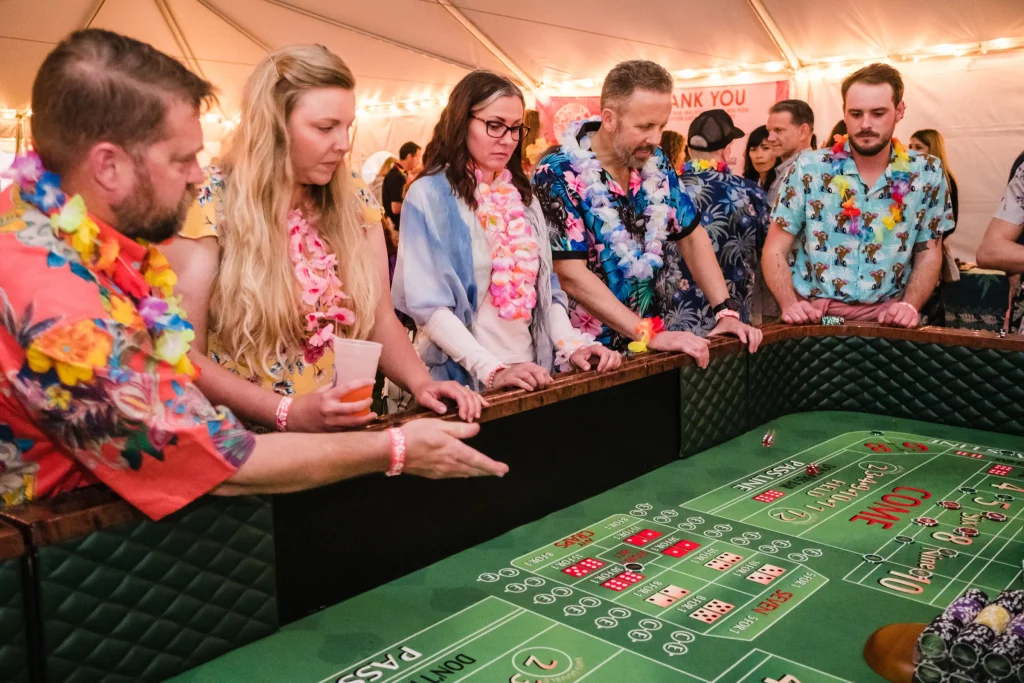 Outside, we had another bar serving island themed specialty cocktails as well as a cater-served buffet featuring authentic Hawaiian and Polynesian cuisine. Across from the food and libations was a roulette table and a small stage that was at one point graced by a "Warrior Dance " led by our own Brian Meyer and several friends (with encouragement from the Hawaiian entertainment team). We also had vending tables set up for Mana Supply Co. and cheSUPeake with all kinds of goodies for the whole family. Ambient music was provided throughout by a live ukulele duo.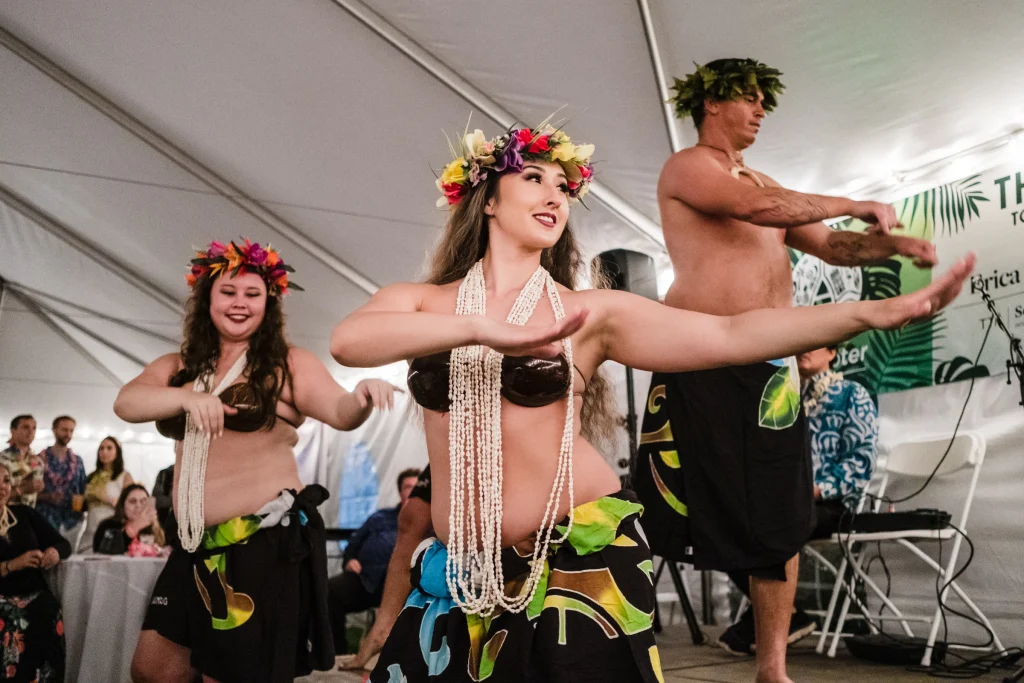 After lots of games and getting to know one another, we were treated to a traditional Hula performance from the experts at Hawaiian Entertainment Company. Hawaiian owned and headquartered in Lahaina, Hawaiian Entertainment Company has 33 years of experience creating culturally accurate hula shows. It was truly an honor to host them for our event!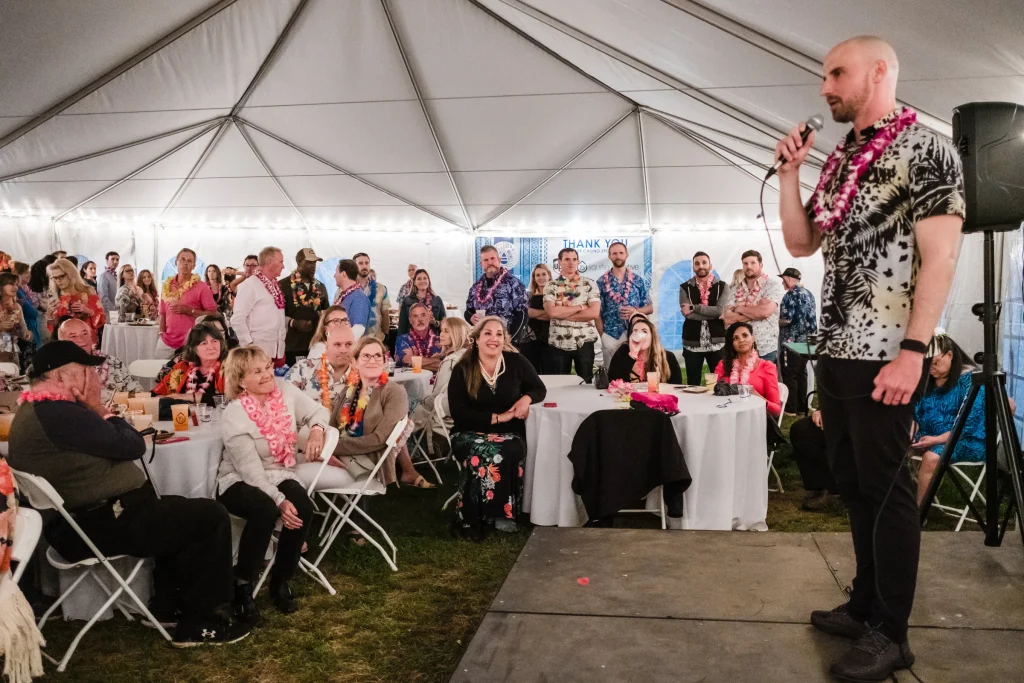 Brian Meyer took the stage once again when it was time to reveal our lucky raffle winners and say some special "thank yous" to the folks who put everything together. We had so many awesome prizes, from gift cards to the best spots in Annapolis to one on one personal training sessions and even a chartered sailing trip. Congratulations again to everyone who took something home, and thank you to all the amazing folks who contributed the gifts themselves!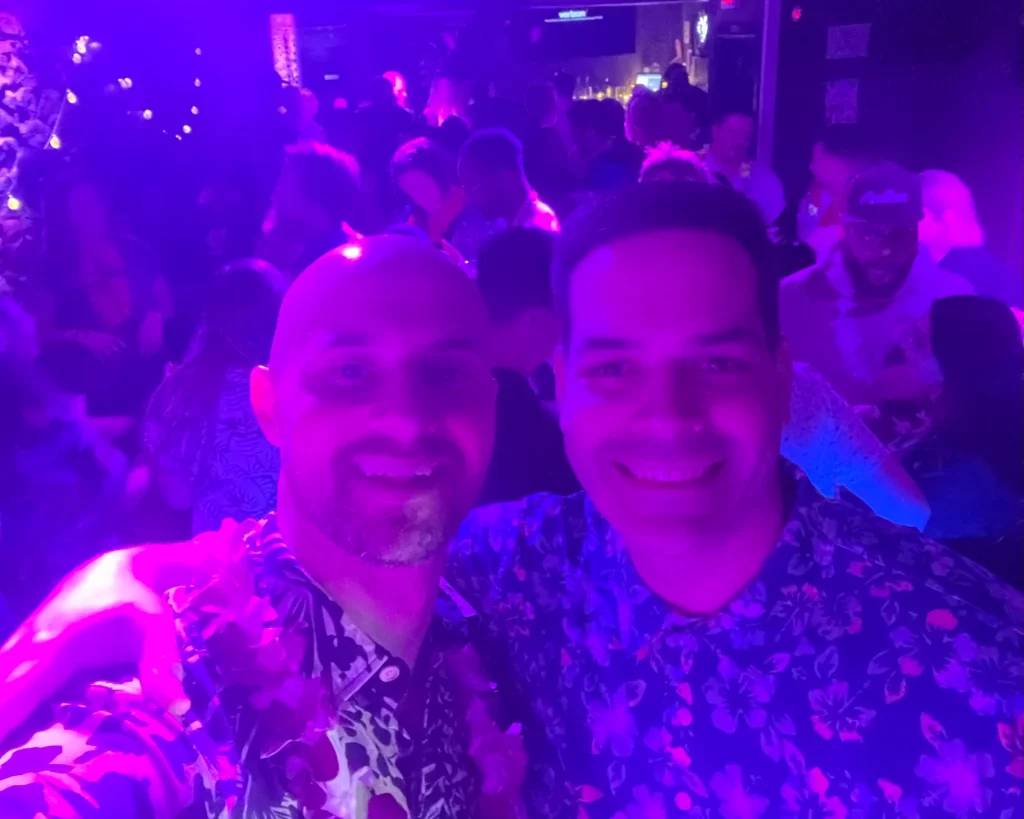 Still buzzing with energy from all the excitement, many of us made our way over to Dock Street Bar and Grill for what turned out to be a fantastic after-party. Baltimore based DJ Janko rocked the upstairs for a private set featuring tropical house with effervescent beats that had everyone dancing until 2am. It was a total blast to be able to really cut loose and shake everything off with the people we love the most!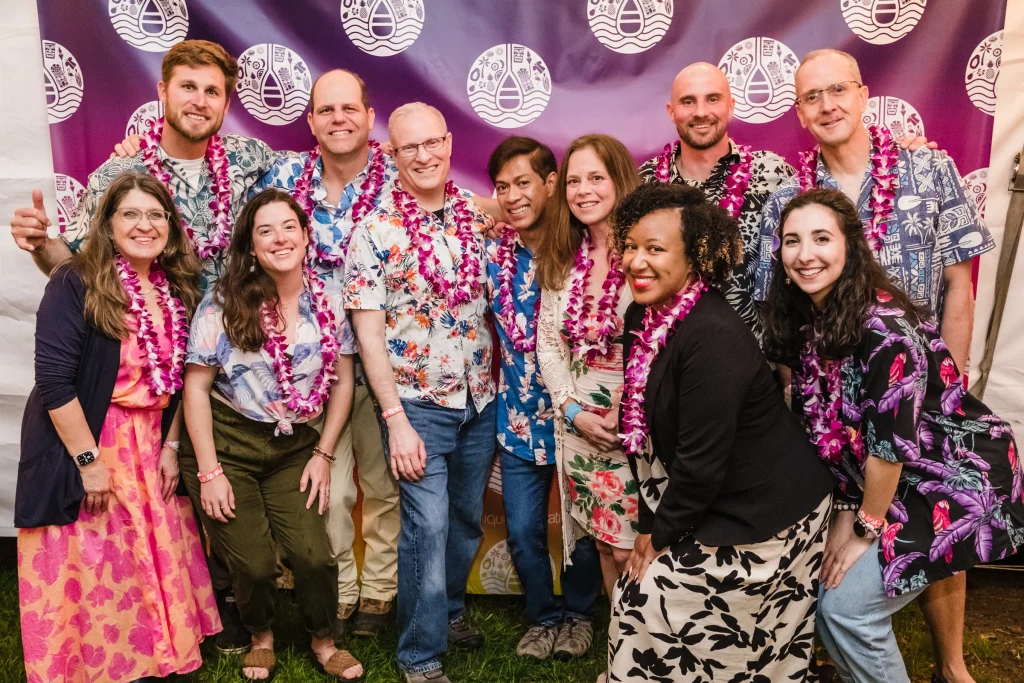 All told, the event was a huge success, and any hiccups we encountered are being viewed as learning opportunities for next year's planning. Our volunteers were the glue that held it all together, and we're still impressed by how swiftly they operated – thank you all! We also can't overstate the immense gratitude we feel for our extraordinary sponsors and everyone who worked to bring this to life. Please consider looking at what they have to offer, as we know first hand that these are some of the most reliable and hardworking individuals and businesses with invaluable products and experiences to offer. Check them out below:
Title Sponsors
Erika Baker, Realtor
Proffitt Brothers Foundation
Casino Game Sponsors
UPS
Liquified Creative
Luau Bar Sponsors
Wes Tower, Atlantic Prime Mortgage
American Gas Association
After Party Sponsors
Mana Supply Company
Dock Street Bar & Grill
Wai Koa Sponsors
Even Health
Annapolis E-Foils
Absolute Fire Protection
Junior Wai Koa Sponsor
Crest Wealth Advisors
Oyster Growing Sponsors
Bay Paddle
Annapolis Waterfront Hotel
Luau Sponsors
Peake Social
Aria Dental of Annapolis
Throwing Star Collective
Cecil Cummins, Hyatt Commercial
Living Life Everyday
Local Coast
Matt Miller, AnnieMac Home Mortgage
ABC Events – Bay Bridge Paddle
Chesupeake
Bay Hunters Charter Fishing