As part of our ongoing effort to perfect our programs and offer the best services possible to our participants, we're incredibly pleased to announce that this year, we are expanding our Junior Wai Koa program to include swim instruction. This expansion is the result of careful and extensive planning on behalf of our outreach and development committee. Sharing our goal to create a free swim program for under-resourced youth, we teamed up with former collegiate diver Erika Matheis.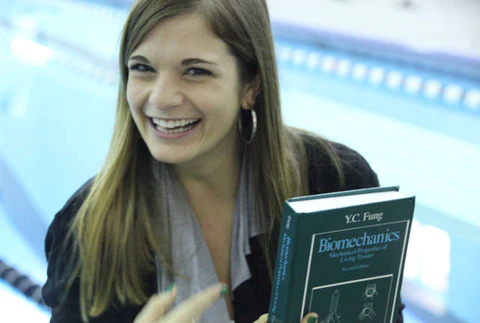 Drowning is the second leading cause of death among American children and youth under 14 years old, and 88% of victims had insufficient formal swim training.[1] Several studies, including one by the World Health Organization, have concluded that children and youth residing in underserved communities are at the greatest risk of drowning because they are unlikely to take swimming lessons or participate in recreational swimming.[1][2] What's more, the largest contributing factors in the learning gap are lack of access to pools and training materials as well as stereotyping.[2]
For members of the Live Water Foundation board, this information was impossible to ignore, especially for those of us who grew up in and around some of the very communities affected. Board member and lifelong Annapolis resident Mary Howser noticed that many of her peers who attended the same high school as her did not have the same opportunities as she. "When we did a drownproofing session in middle school, I saw several of my friends get moved to a different group. I later realized that it was due to them not knowing how to swim," said Mary, whose community had a swim team that she joined when she was six years old. For her, the experience opened her eyes to the very real contrast in what is afforded to whom, and the implications of that reality.
We can't imagine a life in Annapolis without water activity, and we want to see that for every resident – not just those with community swim teams. We strongly desire to foster a connection between kids and the natural world, but we can't guarantee a secure connection that will last a lifetime if we don't also cover the fundamental basics.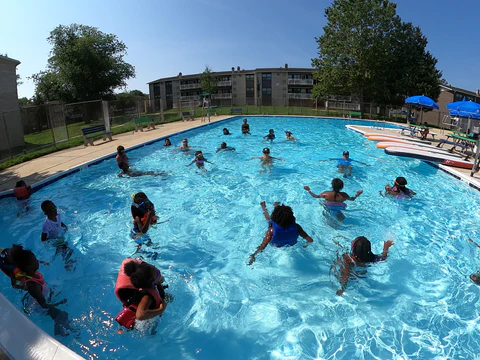 Components of the program include water safety, swimming lessons, learning how to paddleboard and kayak, and learning about the local environment. It is also an opportunity to build connections within the community and provide inspiration for the children. Engaging in group activities also increases a young person's sense of relatedness, competence, and autonomy, and encourages positive, growth-oriented socialization, and young people who engage particularly in outdoor activities have a higher instance of lifelong physical activity.[3][4]
The swim program runs from June 4 through June 18 and prepares participants for the summer paddle program. During the swim program, participants will be assigned to a collegiate diver who will help develop the participant's swimming skills.
Below is our full 2022 programmatic schedule for Junior Wai Koa:
Swim program dates:
Saturday, June 4, 8am – 10am: swim at Truxton Park pool
Saturday, June 11, 8am – 10am: swim at Truxton Park pool
Saturday, June 18, 8am – 10am: swim at Truxton Park pool
Paddle program dates:
Wednesday, July 6, 10am – 12pm: swim/paddle at Truxton Park pool
Friday, July 8, 10am – 12pm: swim/paddle at Truxton Park pool
Wednesday, July 13, 10am – 12pm: paddle at Quiet Waters Park
Friday, July 15, 10am – 12pm: paddle at Quiet Waters Park
Wednesday, July 20, 10am – 12pm: paddle at Ellen Moyer Park or Truxton Park pool
Friday, July 22, 10am – 12pm: paddle at Ellen Moyer Park
Wednesday, July 27, 10am – 12pm: oyster cage building and paddle at Ellen Moyer Park
Friday, July 29: 10am – 12pm: water monitoring and paddle at Ellen Moyer Park
Saturday, August 6: Family Day picnic at Jonas Green Park
Want to get involved? We're always looking for volunteers! Email [email protected], or send us a DM on social media. The kids would love to hang out with you!
Sources referenced:
[1] Brenner, R. A., Taneja, G. S., Haynie, D. L., Trumble, A. C., Qian, C., Klinger, R. M., & Klebanoff, M. A. (2009). Association between swimming lessons and drowning in childhood: a case-control study. Archives of pediatrics & adolescent medicine, 163(3), 203–210. https://doi.org/10.1001/archpediatrics.2008.563
[2] Susnara, Daniela M. and Curtner-Smith, Matthew (2022) ""It's Up to Us:" Factors Influencing the
Perspectives and Practices of Instructors Working in an Out-of-School Swimming Program for Underserved Children and Youth," International Journal of Aquatic Research and Education: Vol. 13: No. 4, Article 3. DOI: https://doi.org/10.25035/ijare.13.04.03 https://scholarworks.bgsu.edu/ijare/vol13/iss4/3
[3] Eric G. Post, Nicole E. Green, Daniel A. Schaefer, Stephanie M. Trigsted, M. Alison Brooks, Timothy A. McGuine, Andrew M. Watson, David R. Bell,
Socioeconomic status of parents with children participating on youth club sport teams, Physical Therapy in Sport, Volume 32, 2018: 126-132 [4] Griffin, Kent. "Exploring the Possibilities of Outdoor/Adventure Education." Kinesiology Review 9, no. 4 (November 2020): 299–304.