By Rachel Elena Bessman
We are proud to announce that through a partnership with the Severn River Association, as part of Oyster Recovery Partnership's project Marylanders Grow Oysters, and with funding secured by the not-for-profit Palmer Foundation, the Live Water Foundation will soon be offering a full-service oyster cage program on Annapolis' historic Back Creek. We hope that this self-sustainable model will elevate the efforts on behalf of all of these organizations to restore the Chesapeake Bay through oyster recovery.
A Word About the Bay
The Chesapeake Bay is the largest, most productive, and most biologically diverse estuary in the continental United States. It has a legacy of both beauty and importance; it provides millions of pounds of seafood, functions as a major hub for shipping and commerce, is an immense natural habitat for wildlife of all kinds, as well as, conceivably, our greatest source of recreation. Unfortunately, the health of the bay has suffered massively as algal blooms lead to hypoxic dead zones, killing off marine life and creating hazardous environments.[1][2] Though awareness continues to rise, many area residents feel at a loss for what they can do to help and may imagine "saving the bay" an endeavor far out of their reach.
Why Oysters?
The rapid decline in the health of the bay has many contributing factors, including runoff from factory farms and eroding shorelines, but it can be traced directly back to the 1880s, when a critical imbalance in oyster harvesting was reached that has affected the vitality of the bay ever since. Oysters are natural water filters, feeding off of tiny algae (called phytoplankton) in the water. Maryland biologist Roger Newell estimated that pre-1880, the oyster population could filter the entire bay in under three days.[1][2]  A single adult oyster can filter 50 gallons of water a day! They are crucial to the health of the bay, and today, only a staggering 2% of their population remains.
Marylanders Grow Oysters & The Severn River Association
Oyster Recovery Partnership (ORP) has been diligently raising and replanting oysters since 1998, and their magnanimous efforts have thus far planted over 8.5 billion oysters. Always innovating ways to expand their work, ORP introduced state initiatives to create the Marylanders Grow Oysters (MGO) project. Through MGO, waterfront property owners with piers and/or wharfs that are suitably situated for oyster growth can opt into having oyster cages suspended in their water, nurturing spat (oyster larvae) as they mature into adolescence and are ready to be planted into designated sanctuary reefs, where they will begin their work as powerhouse water filters.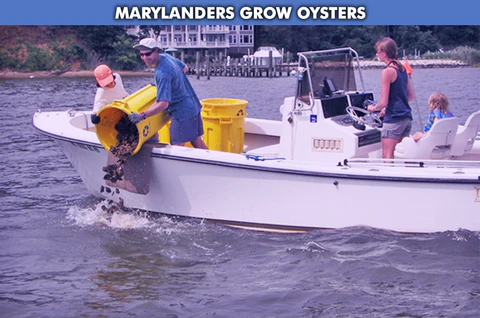 The Severn River Association (SRA) is the oldest, continuously operating river group in the nation and is one of the largest civic organizations in Anne Arundel County, and has been dedicated to the preservation of the Severn River and its watershed since 1911. When the Maryland legislature finalized MGO in 2008, the SRA took notice and quickly adopted the program in 2009. Today they have over 400 volunteer oyster growers — the largest group of growers in the Maryland Chesapeake area, sponsoring just under 2,000 oyster cages and growing each year!
How Can Live Water Help?
The SRA has been very successful in its operation and continues to make strides in oyster restoration as volunteers and communities join in. However,  Bob Whitcomb, program director for MGO on the Severn River since its inception recognizes the ability to further expand. "People come and go, we'll have folks join for a year or two and drop out." Whitcomb says that some communities are more organized than others, but also notes that farming oysters is ultimately a dirty job. The cages need to be serviced biweekly in the spring and fall, and the oysters need to be cleaned periodically. "Not everyone wants to do that, and that's okay!" says Whitcomb. He adds that transporting the adolescent oysters to their sanctuary poses a problem for some people as well because not everybody has a boat that is suitable for carrying the young oysters.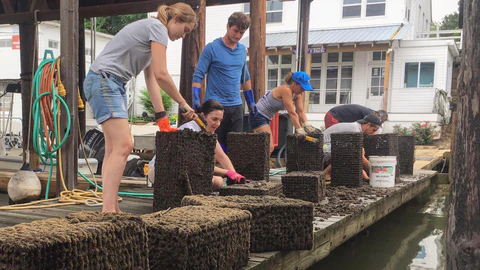 That's where we come in. Our goal is to get as many people involved as we can by taking out all of the dirty work, allowing dock owners to simply host the cages, and leave maintenance, cleaning, and transportation to us. In 2015, Capital SUP CEO and environmental steward Kevin Haigis led his own oyster cage program in Spa Creek, managing 50 oyster cages. This year, Haigis will be hosting oyster cage building workshops at Capital SUP for the benefit of our new program.
A Huge Thank You to the Palmer Foundation!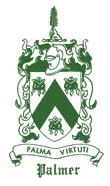 We are eternally grateful for the generous support that we have been granted from the Palmer Foundation. Our mission is made possible by their noble contribution, and we are humbled to receive it. The Palmer Foundation has written several grants for oyster restoration previously, with a large focus of their foundation being to act as a "catalyst for change by funding Water Access, Sanitation, and Hygiene (WASH) initiatives." When asked why the Foundation chose to make their contribution, they said "[We] love that this grant with [Live Water Foundation] also ties into the community. It seems like a grant that's sustainable; if you can get the various homeowners who have docks within the Annapolis area to contribute and be involved in it, it may further spur attention to oysters, cleaning up the Chesapeake Bay watershed. The fact that it is a potentially sustainable solution makes it a great grant for us. [As this is] Live Water's first private foundation grant, [we] are hoping that this will help [Live Water] get funding from other family foundations in years to come, and further scale [their] mission."
With the help of everyone involved — Oyster Recovery Partnership, Severn River Association, Capital SUP, and the Palmer Foundation — we are very confident that this full-service oyster cage program will create a sustainable model that will hugely increase the amount of oyster growers in the Annapolis area and make it easier than ever to be personally responsible to cleaning the bay. Our visions combined, we will continue to work as hard as we can to do our part in caring for our treasured Chesapeake Bay.
References:
Aaron J. Bever, Marjorie A.M. Friedrichs, Pierre St-Laurent,Real-time environmental forecasts of the Chesapeake Bay: Model setup, improvements, and online visualization, Environmental Modelling & Software, Volume 140, 2021, 105036, ISSN 1364-8152, https://doi.org/10.1016/j.envsoft.2021.10503
Environmental Protection Agency, W. D., & Maryland State Dept. of Education, B. (1982). Chesapeake Bay: Introduction to an Ecosystem.