By Rachel Elena Bessman
Last year, Virginia Beach native and longtime Marylander Chris Hopkinson set out to travel the length of the Chesapeake bay, solo, by stand up paddleboard. His 240 mile journey spanned nine days, beginning in Havre de Grace, Maryland, and ending in Cape Charles, Virginia. Of the few paddlers known to have attempted the trip, Hopkinson is the first to have accomplished it by stand up paddleboard. His bold trek raised $190,000 for the Oyster Recovery Project (ORP), which helped to plant 100 million oysters!
This year, he won't be doing it alone — and he has even bigger goals. Partnered once again with ORP, together with the Chesapeake Conservancy, this year's Bay Paddle will be an 8 day race with the aspiration of doubling the amount of oysters planted in addition to raising money for the Conservancy's mission of turning the Bay into a National Park.
Hopkinson hopes to raise awareness for their missions by connecting people to the water directly. He says, "Most people don't get to see the entire bay — probably 99% of us have never. Even fewer see it on a paddleboard, which is a really unique experience. If you're on a ship or a boat, you're probably going fast down the middle of the bay, so it's hard to soak it all in." Considering that the average depth of the bay is around 30 feet, with some of its rivers reaching only 10 feet, there is quite a bit that is unnavigable by a boat, but perfectly accessible on a paddle board. "I was hugging the shoreline and ducking into little rivers and narrows and everything else so I could hang with maybe a bald eagle for a couple of minutes or see dolphins that were swimming right beneath me," Hopkinson adds. For him, echoing the call to action to Save The Bay is one thing, but it is in showing people just how arrestingly beautiful it can be that he thinks will inspire them to feel a real connection to it.
We couldn't agree more.
"I've lived here my whole life; I never had a boat, never had access to the water — until I got a paddle board. That's why I really like what Live Water is doing because they're trying to bring people to the water, and that's how you educate them," Hopkinson says, "[People] hear the bay isn't doing that well but it's really hard to connect to that if you have no experience on the water."
In alignment with our mission to paddle with a purpose, we have teamed up with the Valhalla Sailing Project —  a non profit organization that aims to enhance the lives of wounded and disabled veterans through sailing and paddling. Our own Mary Howser is training members of the Valhalla team to prepare for the epic journey, with some paddlers attempting the entire 215 mile race. There is an inherent value attached to doing what it takes to push yourself through a competition, but Howser also sees the benefit in disconnecting from the land and letting everyday stress drift ashore. "We want to get veterans on the water because we understand there is a healing property to it," Howser says, "You're in a new environment, out on the water, not thinking about the day to day and enjoying nature." Hopkinson agreed, saying "Whether you're on a paddleboard, kayaking, or sailing, as soon as you're on the water, everybody exhales."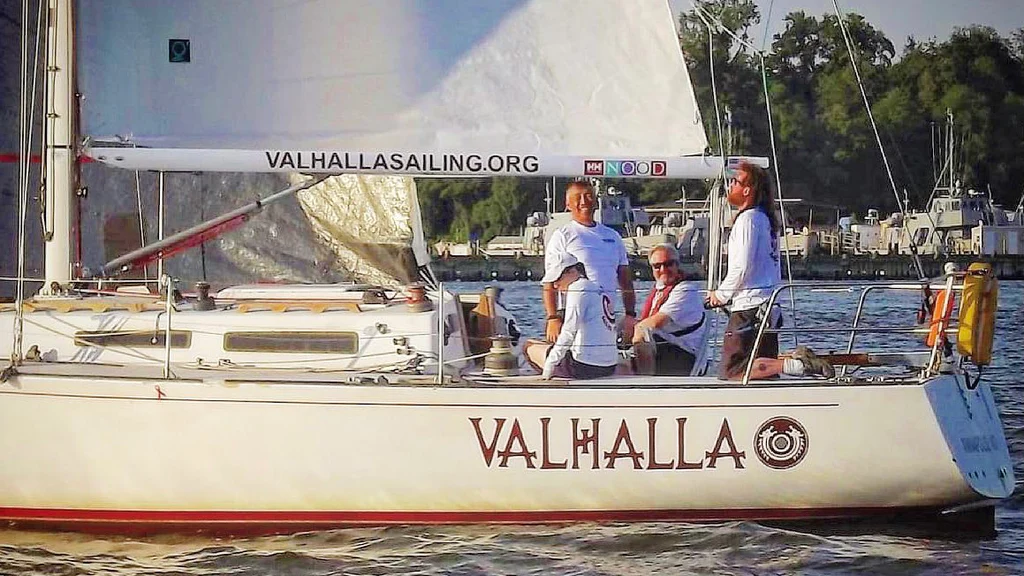 Bo Darlington is a military veteran and Valhalla team member being trained by Howser for the competition. Darlington, who already spends much of his time on the water by boat, says he is most looking forward to seeing different parts of the bay and gaining a new perspective. "I think this is a great way to push myself while supporting a great cause to protect the bay," Darlington says.
Live Water Foundation President Brian Meyer, also competing in the race, had similar views. It was Meyer's passion for bettering the lives of veterans that led him to create Live Water's Wai Koa program (which organizes on water activity for veterans), and he sees this competition as the culmination of years of hard work. As a passionate waterman who has competed in several endurance paddle races previously, Meyer says, "This race really combines everything that I've done to compete in the longest race I have ever competed in for a mission that I strongly believe in. And that's why I'm committing a lot of time and energy to prepare for this race."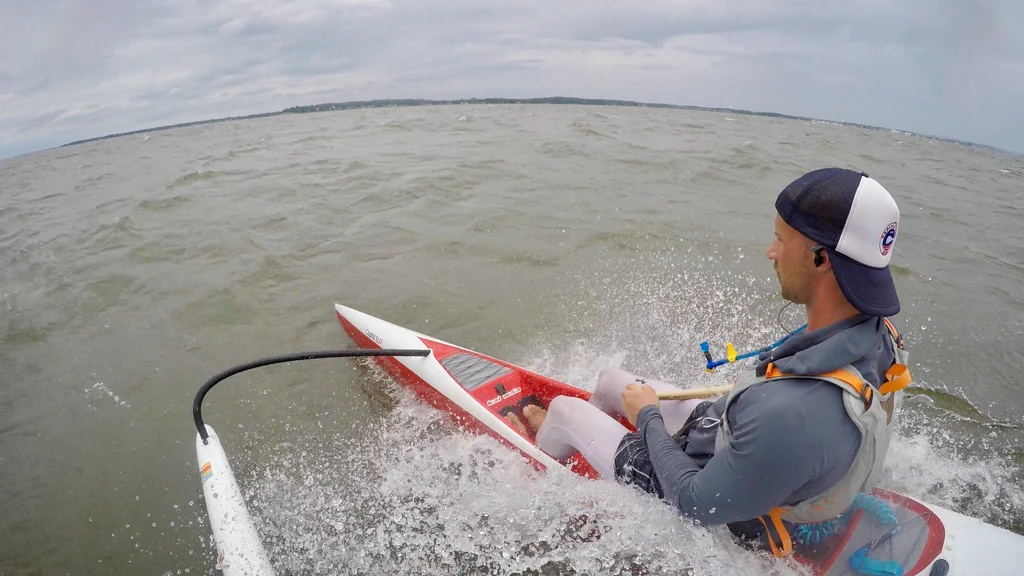 At Live Water, we are committed to helping people maintain a relationship with the Chesapeake Bay and its waterways that is easier and more intimate, whether that means getting veterans on the water, or providing water access to marginalized groups. Part of that relationship means caring for the bay and doing our part to keep it healthy. One simple and straightforward way to help is through oyster restoration, which is a big part of why we are thrilled to be a part of the Bay Paddle.
But our work continues, and we will not stop there. We are currently putting the finishing touches on a program that we strongly believe will make the personal obligation to be a part of bay recovery so much easier, it will even be fun! Stay tuned as we move to announce this new development.