By Rachel Elena Bessman
None of us need to be reminded of how stressful these last eighteen months have been while battling the COVID-19 pandemic. For students, this experience has been especially difficult as they navigate through a period of life that is already challenging. After three months of careful planning, South River High School students Grayson Smith, Jamison Ballard, and Andy Horning, created a kayak therapy program for their classmates as an outlet to deal with the mental health crisis accelerated by the pandemic and the subsequent shift to remote learning.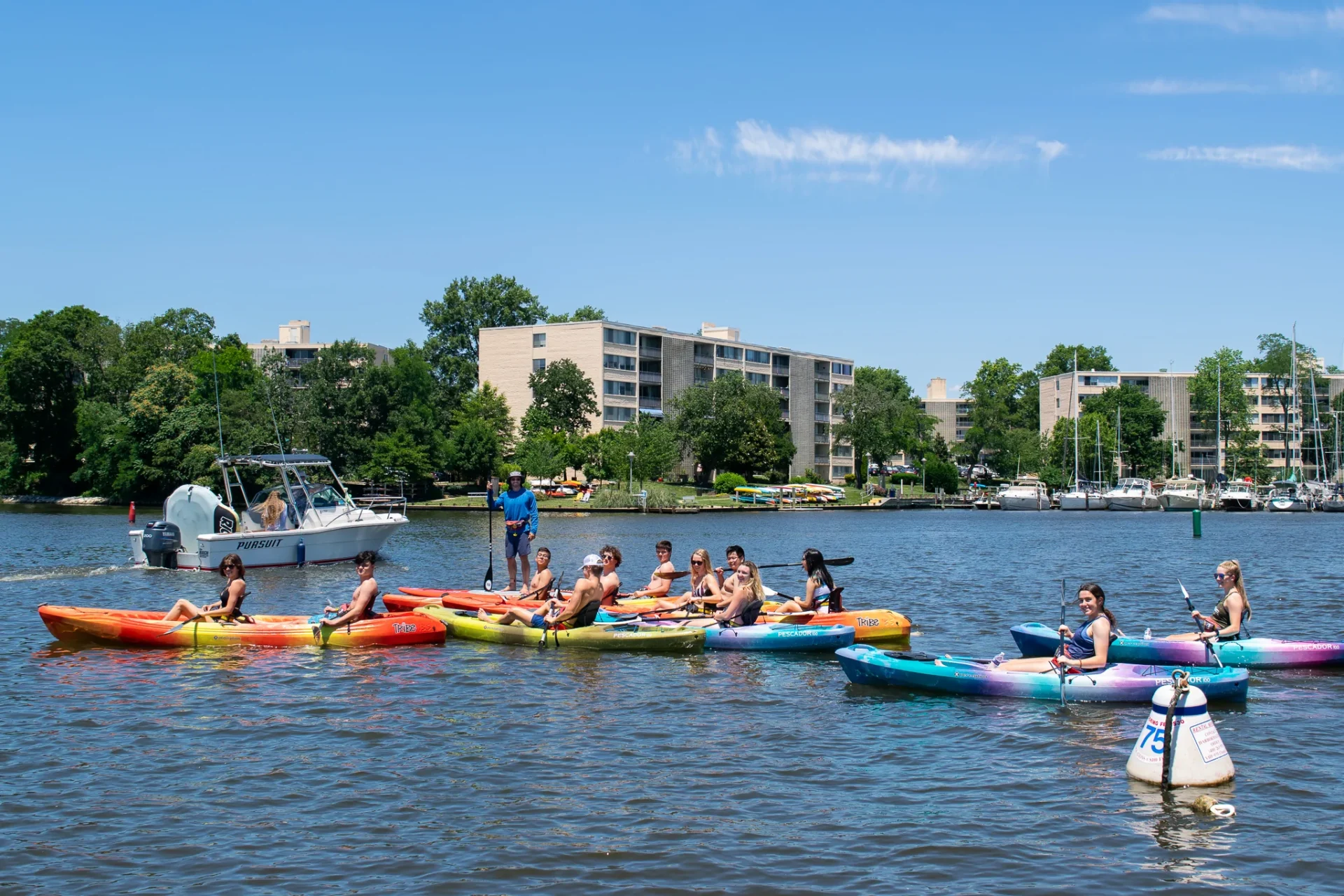 For the event, the students — who are all in the STEM (science, technology, engineering and mathematics) program — coordinated a day filled with kayaking, games, snacks, yoga, and meditation, for twenty of their classmates. Live Water Foundation president and co-founder Brian Meyer helped facilitate by taking the students out on the water, with yoga and guided meditation taught by fitness and wellness professional Lindsay Cook.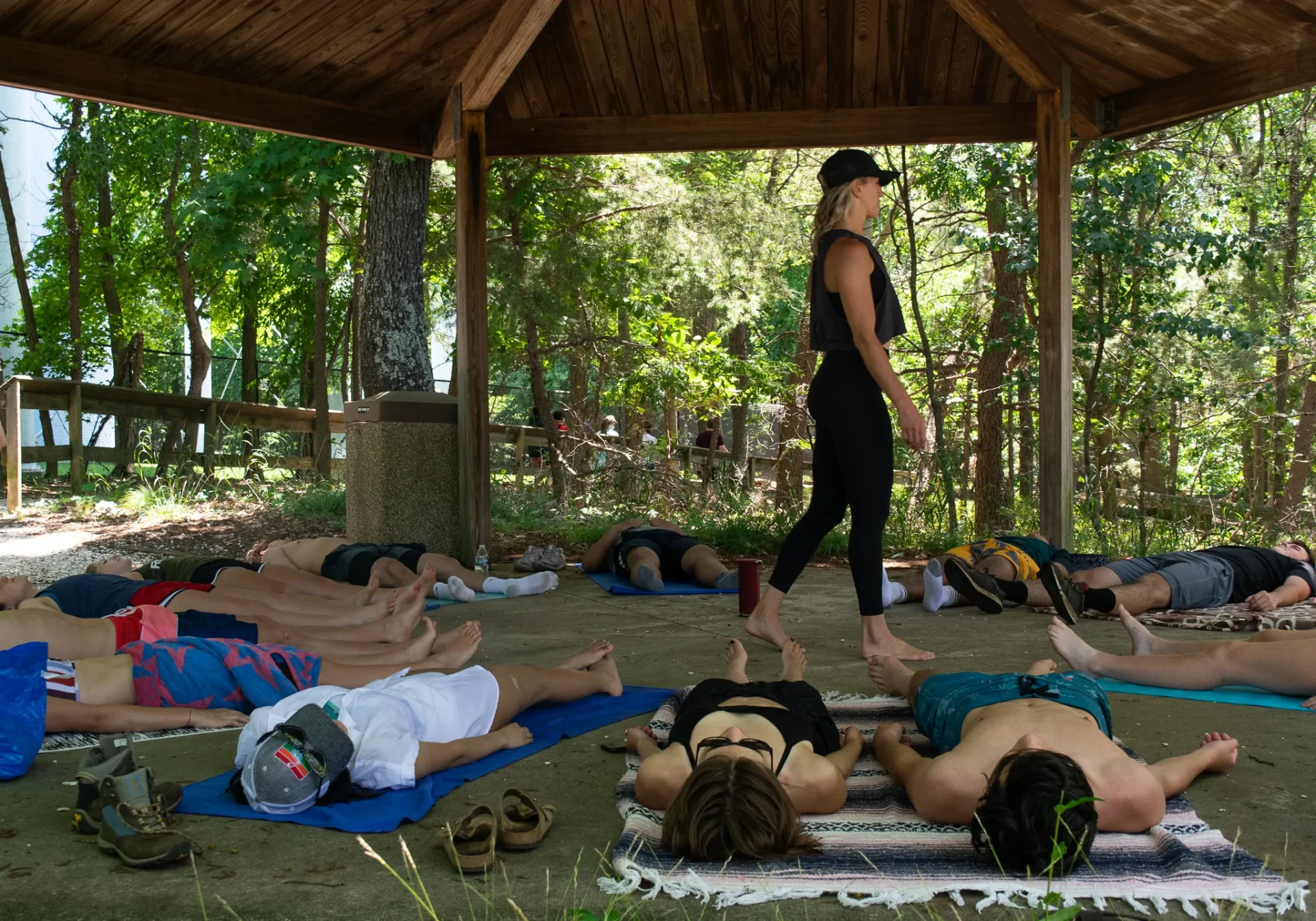 After the event, we got a chance to catch up with two of the student organizers and chat about their group, their goals for the program, and what they took away from the day. (Andy couldn't make the event, but Grayson and Jamison emphasized their gratitude for his contribution as budget manager).
Tell us a little about your group.
Grayson: We're all STEM kids, and this is for a "community challenge" class. We actually did not pick this group, our teachers assigned us to each other based on — [to Jamison:] what was it, like a little questionnaire that they had us do?
Jamison: Yeah, it was almost like a personality test but a bit more about how you work in school groups, and they placed us together like that.
G: Since we're all in STEM we all knew each other beforehand, we just never really had an opportunity like this to work together.
Can you walk us through the day?
G: For the event, we got there early and set everything up. We brought games like cornhole, can jam — Jamison brought a bunch of them. We got everybody suited up with life vests so we could go straight out on the water. [To Jamison:] We were on the water for what?
J: About an hour.
G: We were on the water for about an hour. I think everybody was kayaking but we did have the opportunity for them to paddle board if they wanted to. After that, we went back on shore, and Brian had brought a yoga instructor [Lindsay Cook] there for us. So we went into the woods and there was a little pavilion, and we did yoga just to calm down and sort of smooth everything out, relax our muscles. And then we came back and had some pastries from our caterer – Bread and Butter Kitchen.
J: It felt very quick — it went a lot faster than I thought it would because it was so relaxing.
What was the goal of the event?
G: When Brian had come to us with the idea, he wanted it to be like a kind of therapy event. Just to get the kids out of the water. When we got there he did elaborate this for them: he wanted us to be able to solely focus on kayaking, completely forget any work that we had to do, any schoolwork that was bothering us, and just focus on the exercise and being with our friends. I feel like that worked out really well, especially with the meditation at the end because that also served the point of forgetting about your worries. He just wanted it to be a fun experience for kids to truly enjoy.
J: It was very much about living in the moment. Even though they assigned it to us, we did spend a lot of time researching — probably about a month — if kayaking is actually a good solution for mental health and actually a good solution to destress. We found a lot about connecting with nature through exercise, and how it's really good for your mental health. So, it was really about boosting the mental health of South River students.
Just to clarify, was this curriculum that was assigned to you? Or did you plan the activities?
J: They basically told us, hey, we want a kayaking event with roughly twenty kids, and that was it. Everything else from the day to the activities to the research — that was all us.
What was your favorite part about the day?
G: Kayaking!
J: For me it was actually the meditation portion. When we originally planned it, we set up all the activities, and said "you can meditate if you want to or go play some of the games, like spike ball or cornhole." So, I didn't think that I was going to do it, because I've never been into that kind of stuff, but right when we finished kayaking,  Mr. Meyer was like, "We're all going to meditate!" I didn't think that I would enjoy it, but I actually enjoyed it a lot. That was my first time meditating.
G: Being out in nature really helped because we were in a lovely little pavilion spot, it was super quiet, the yoga instructor was wonderful — she was so nice.
Is there anything from the event that you think you'd want to try again?
G: I think even the event as a whole, we could definitely do again. Maybe for all AACPS students, because it was kind of a smaller group. But I think as a whole, it should definitely be done again. I think everyone really enjoyed it. I know we did — we had a great time running it. So we would definitely do it again. But meditation, I think people could do a lot more of.
Is it something that you think you will personally try to do from now on?
G: I had already been doing a lot of yoga and meditation, I do that pretty much daily. That was actually one of my recommendations for the event. I hope that when doing it there, people want to do it more at home. I hope that was an impact for them because I love doing that stuff and I think it really helps people out.
J: Yeah, I definitely felt that way. I mean I would never even think about meditating before, but I enjoyed it before.
One of our main goals at the Live Water Foundation has always been to promote healing through on water activity, and seeing that in action is such a pleasure. Watching youth take community action to enhance the mental health of their fellow students is inspiring, and we are grateful to have been a part of it. We hope to see more programs like this in the future.
More photos from the event