Erica Baker is an independent realtor based in Annapolis. She's a longtime friend of Live Water Foundation and has been one of our supporters since our founding in 2017. Erica has had many interests throughout the years, especially when it came to challenging herself. She's tried her hand at nearly every athletic opportunity that has come her way, from softball to gymnastics, has stepped foot on almost every continent, and began her solopreneur journey at just 24. Erica is still involved with recreational sports and became introduced to us through race training with our partner, Capital SUP.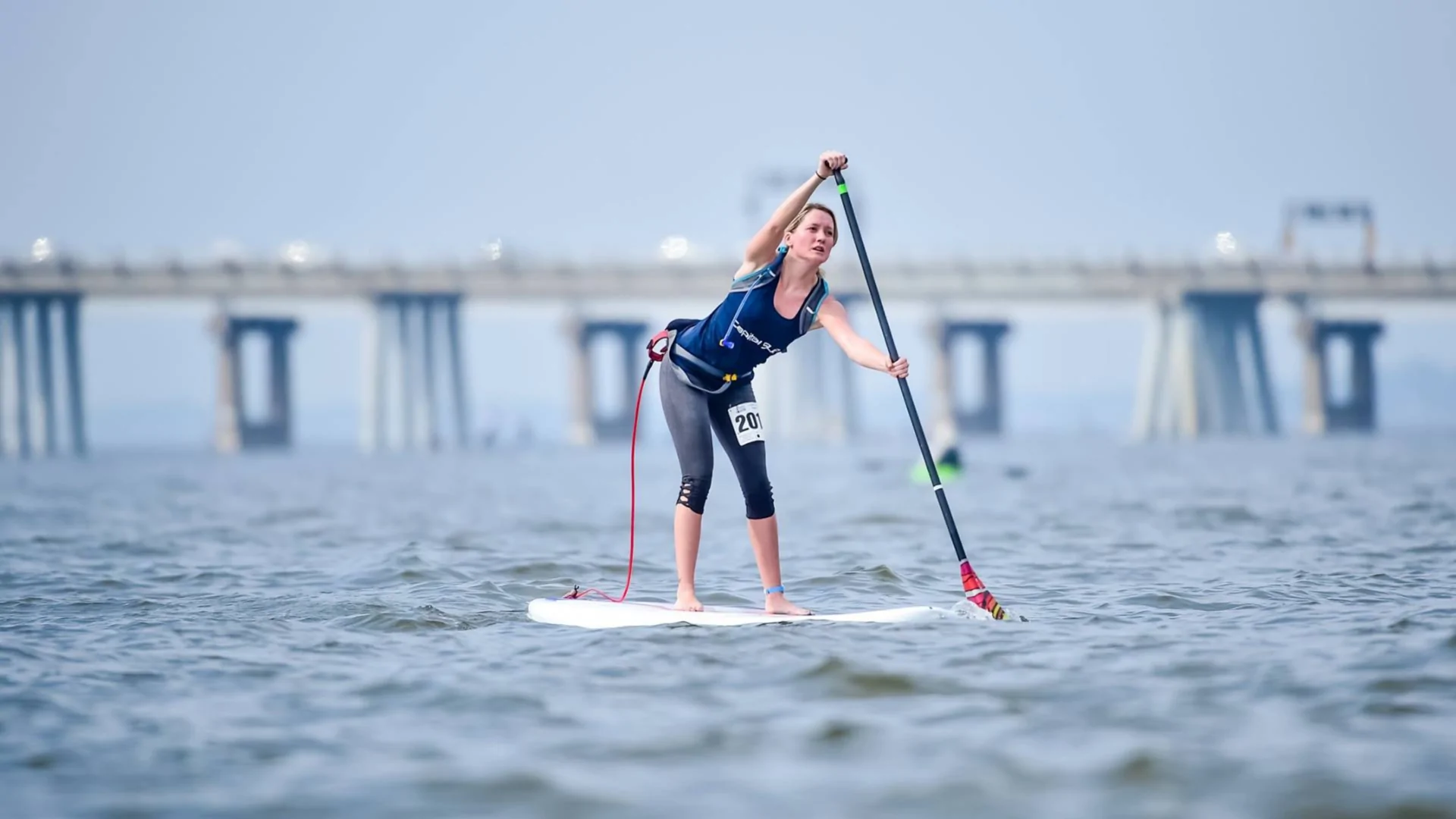 Erica paddling across the Chesapeake Bay during the 2017 Bay Bridge Paddle. Paddling across the bay = bad**s realtor! 
We sat down with Erica to talk about her passion as a realtor and what sets her apart, what drives her as a successful business owner, and what compelled her to support our organization as co-title sponsor of the Live Water Luau.
1. For how long have you been a realtor? I have been a realtor since 2015.
What do you love about it? – I love being around people.  I especially love sharing my excitement for our area with people moving to our area. I know the greater Annapolis area like the back side of my hand because it is where I essentially grew up since Edgewater is not far and it is where I have loved living for decades.
2. What sets you apart from other realtors?
I am sincerely one committed and extremely hard worker.  My heartfelt, adventurous, compassionate, go-getter and charismatic personality also helps me to be a friendly yet extremely effective Realtor. My work ethics have set me apart in various situations since I was 14 years old at my first job.  It is also what helped me to become a procurement manager of a multi-million dollar home remodeling company at the age of 21 and it is the very reason I am the real estate advisor I am today.  I laugh often because a previous client of mine nicknamed me the Honey Badger.  "It compartmentalizes fear, summoning the courage to tackle great danger in order to take home the victory."  She nicknamed me this because at first you don't expect it from me just based on looks, but when the timing is right in negotiations, she says I strike and succeed with negotiations.  With all of that said, I think my biggest differentiator is that I genuinely listen and most importantly, care about what each client is looking for.  Real Estate is my lifestyle.  It is what I love to do from the moment I wake up to the moment I go to bed.  I strive to be the best communicator and as resourceful as I can be because in this industry, that is everything.  I want everyone to be happy and for them each to succeed.  Being that helping hand to achieve a client's goals is something I am so inspired by and adore being a part of.
3. You share our value of building community relationships — what is special about the Annapolis/greater Annapolis community? 
The people are what I think is so special.  As I think most would say in any community around the world, but ours just feels different.  The people in our community feel like family.  They can take a really bad day and allow you the inspiration to wipe it away and start fresh just by a simple hello.  The friendly faces, the outdoor initiatives, their commitment to making as many relationships strong and endless efforts to create fun events for a greater good.  My favorite part is seeing so many take to the outdoors or active events to be the best versions of themselves.  I have seen so many beautiful friendships created and grow just from attending a yoga, paddle board, or spin class, etc.
4. What motivates you? Or, what gives you the passion to keep running your own business as a female entrepreneur?
One of my previous managers told me you miss 100% of the chances you don't take.  In every instance where I pushed my limits, I was met with the very best memories of my life.  My motivation is the thrill of continuing to push my limits.  I know I can do what every other successful person does if I truly try.  Knowing this deep down, I keep going because I want to continue to prove that there are no limits outside of the ones we each set for ourselves.  I learned early on that being held back by fear or someone else was just not in my play book.  I have seen loved ones held back by such things and it was an incredible learning experience for me.  For so many reasons, I was able to take that and cultivate it to grow what I call my fearless fluttering heart.  Which is what I lead with and what gives me the passion to keep running my own business.  Whenever I feel this towards work (and especially travel), I know I have to go for it.  I have had so many wonderful managers, but working for someone else was also not in my play book.  That aspect never was fitting.  I have an everlasting motivation to always try to go above and beyond; In my adulthood I found a love for leading in certain situations and more so found that I was great at it because of my compassion and listening skills.  Not letting my family, friends and clients down is a huge part of my motivation as well.
5. Tell us about your proudest achievement: what is something you've done that really challenged you?
My silent achievement is continuing to run my business.  I say silent because I do not celebrate it as much as I should.  As I am sure most would agree, starting this business is the easiest part.  It's the continuing to run it that is the hardest part.  Our industry requires a lot from an individual as it is not a clock in, clock out type business. I am so incredibly proud of the journey I have taken to be the person and business woman I am today. Another achievement I am very proud of is the reward I received from leaving a job more than 8 years ago with no idea what I wanted to do, traveled a bit, found an interest in real estate and ended up finding a major love for travel.  My travels and adventures are something I hold very near and dear to my heart.  It means the world to me.  I have hiked some of the most beautiful and tallest mountains, the most challenging were in Nepal and Africa, bungee jumped several crazy locations in New Zealand, went sky diving in Australia, hiked the most strenuous stretch of the Great Wall of China, hiked up to and into a volcano before sun rise in Indonesia, scootered around various countries, walked Angkor Wat in Cambodia, swam in the bluest of waters,  paddle boarded in the bluest of waters, guided elephants through a jungle by holding food in hand, went scuba diving at the great barrier reef and fell in love with learning about so many different cultures.  I remember driving up a very narrow road on a mountain headed to Pai, Thailand and planning out my ideal real estate business in my head.  Thinking how amazing it would be to learn about international real estate and all of the amazing clients I could share stories with.  One year after that trip I obtained my international real estate certification.
Why did you choose to be a title sponsor for the Live Water Luau?
Six years ago, I had the privilege of personally experiencing the very mission LWF is bringing to our communities today. Before they established LWF I was one of I'm sure many whose lives were changed by the crew at Capital Sup and sharing their love for the water. Our community's health, wellness and environment matter and I'm so proud of the team at LWF. As a local Realtor, friend and just someone who is passionate about our communities, I couldn't be more honored to support their mission as a title sponsor and will continue to help in any way I can.
ERICA IS READY FOR THE LIVE WATER LUAU! ARE YOU? TICKETS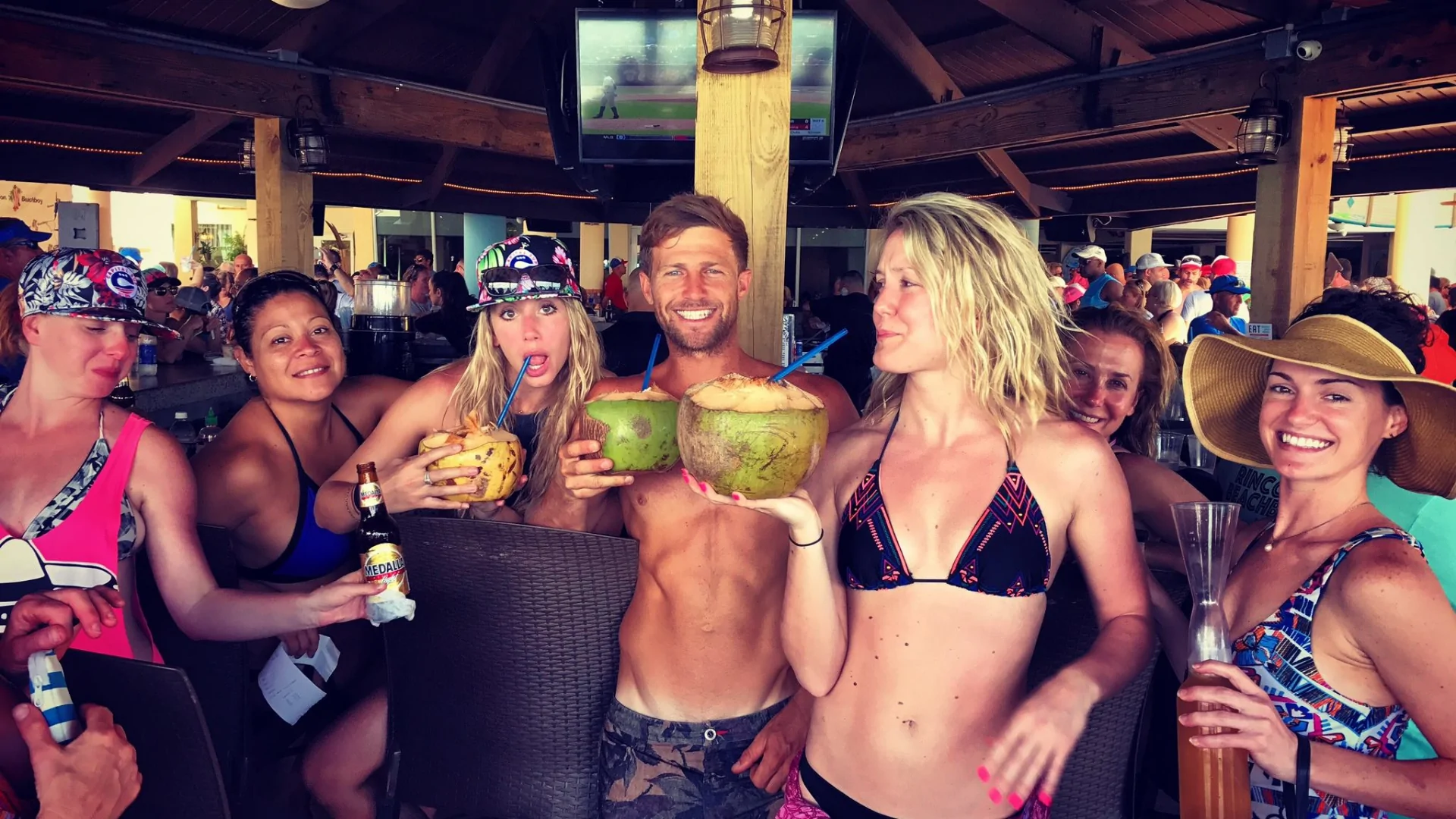 Erica and the Capital SUP community in Rincon, Puerto Rico 2017 – enjoying life and living free.
See you at the luau!